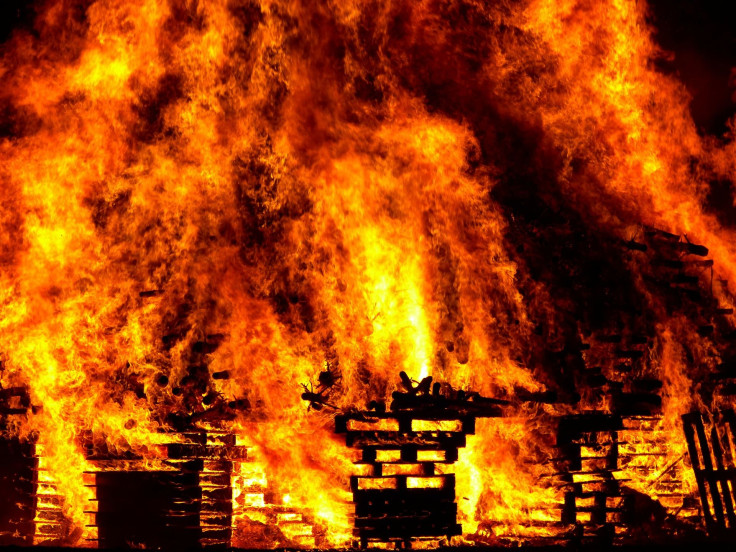 A man died after trying to save his 12-year-old son from a tragic house fire in Morgan County, Georgia.
Thomas Hawk, 39, was helping his father Tommy Hawk, and grandfather move furniture next door when his family home located off of Highway 83 caught fire. While he was next door, he received a "frantic" call from his 12-year-old son Eric saying that he was trapped in his bedroom. Seeing the fire break out, Hawk reportedly threw his phone down and "ran straight into the home's carport entrance," which was in flames, People reported.
Meanwhile, Tommy Hawk, Hawk's dad, saw Eric beating on his bedroom window and calling for help. The bedroom window was blocked by an AC unit, preventing the boy from getting out. Tommy then successfully ripped the AC window out and got Eric out safely from the burning house.
After saving Eric, when Tommy attempted to go into the home after his son, he was "thrown back" from the heat and flames, WSB-TV reported.
"Tommy said he was almost thrown to the ground. It was so intense," Morgan County Fire Chief Jeff Stone said.
Meanwhile, Hawk was found "deceased" outside his son's bedroom door. Fire officials determined that Hawk likely died from "smoke and heat inhalation" before the flames reached him. Fire officials said that they believe he ran through the flames, "holding his hands over his face" in an attempt to rescue his son.
Hawk is survived by his wife Amanda Hawk, his daughter Mackenzie Hawk, and Eric. Eric is reportedly "in an induced coma" at a burn unit in Augusta as he recovers from smoke inhalation.
Friends described Hawk as a family man who loved his wife and two children. He also was known for coaching 4-H archery.
"Upon meeting him for the first time, it was like talking with an old friend. Thomas enjoyed coaching the youth in archery and spending time with them," Leigh Matthews wrote on the GoFundMe page. "He was always 'living another day in paradise', and LOVED cheering on the Georgia Bulldogs. While he was a 'family man' Thomas also was a best friend to everyone. He always offered to help anyone and everyone. Thomas will be missed by all that knew him."
The cause of the fire is currently under investigation.
© 2023 Latin Times. All rights reserved. Do not reproduce without permission.