Ralf Rangnick seems to be struggling in keeping Manchester United intact. As many as eight players are reportedly looking for a way out of the Old Trafford. Cristiano Ronaldo's strong presence in the team has also become a challenge to Red Devils.
A source claimed that an increasing number of players who suffered under Ole Gunnar Solskjaer are now experiencing the same treatment under Rangnick, which has led to the growing divisions in the Manchester United dressing room.
A lot of the players are underwhelmed by Rangnick's coaching and not impressed by his techniques and tactics. Rangnick it has been claimed is too close to specific players, showing favorable treatment at the expense of others.
Meanwhile, Harry Maguire, Edinson Cavani and Mason Greenwood are believed to have found the undroppable presence of Ronaldo a problem to their expected roles in Man Utd. Other players are also frustrated regarding Ronaldo's influence over international mates and his Portuguese native players.
Luke Shaw became the most recent player to hint at the tension in the team after being defeated by the Wolverhampton Wanderers, claiming that the squad were not "together" and lacked commitment. The divisions within the Red Devils' dressing room cannot be denied. Shaw was said to firmly suggest quality players were coasting and displaying no commitment with the team.
It is followed by suggestions made by Gary Neville following the draw in their match against Newcastle, stating that cliques were forming in the dressing room.
Rangnick said post-Wolves match, "We didn't play well at all individually or collectively. We have to admit they deserved to win. We didn't press at all. We tried but we were not able to get into those pressing situations. They had an overload in midfield and they played via their wing-backs."
"We've been only working two and a half or three weeks after needing to close the training centre. We had the results. In times we played well but today we have to admit they're better than us," he added.
In light of transfer issues, West Ham have reportedly offered a £100 million ($1.3 million) asking price on the Three Lions star, Declan Rice, but the Red Devils are confident of still having him next summer.
Man Utd are also said to be determined to sign Wolves star Ruben Neves this month, The Sun reported. The 24-year-old ace player has only two years left on his current contract at Molineux but he has shared his desire to play in the Champions League.
The Football Association Challenge Cup match against Aston Villa next Monday, Jan. 10 will hopefully give Rangnick a chance to keep players in a more interesting game time.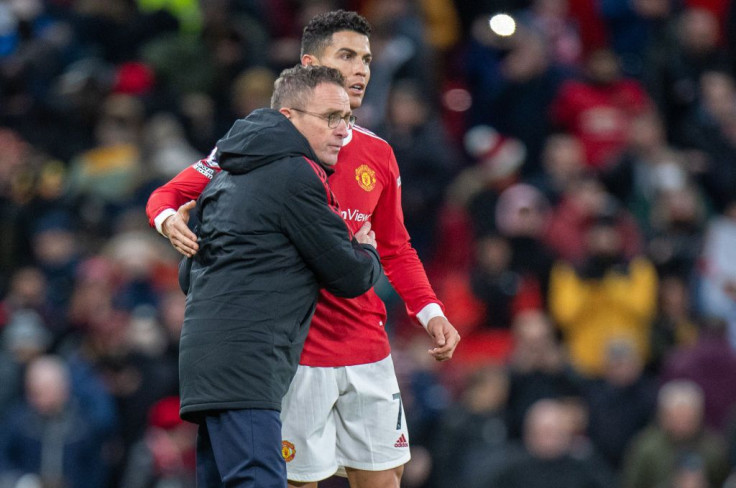 © 2023 Latin Times. All rights reserved. Do not reproduce without permission.