The foreign minister of Peru has stated that Mexico's ambassador to Lima has been designated as "persona non grata" and that he must leave the country within 72 hours, Al Jazeera reported.
The sudden decision was issued on Tuesday, Dec. 20, following the announcement by Mexican Ambassador Pablo Monroy that his nation had granted shelter to the family of Pedro Castillo, who had been ousted as president of Peru earlier in the month.
Castillo attempted what some have referred to as a coup on Dec. 7 and is now facing rebellion charges from behind bars.
The ejection of Monroy was due to "repeated statements from the highest authorities of that country regarding the political situation in Peru," according to Peru's foreign ministry's post on social media.
Castillo's family was inside Mexico's embassy in Lima, according to Marcelo Ebrard, the country's foreign minister, and the administration was negotiating their safe passage.
The safe passage for Castillo's wife and the couple's two children had been legally confirmed, according to Peru's foreign minister Ana Cecilia Gervasi. However, none of the two countries provided a timeline for when Castillo's wife Lilia Paredes, or their kids will visit Mexico.
Castillo was deemed the target of "undemocratic harassment" in a joint statement last week from Argentina, Bolivia, Colombia, and Mexico.
Days later, Peru's newly elected president Dina Boluarte called the ambassadors to return home for discussions, claiming intolerable intervention in the nation's internal affairs.
With 93 votes in favor and 30 votes against, Peruvian legislators approved early elections on Tuesday, bringing them two years ahead of elections currently scheduled for 2026.
On Dec. 7, legislators removed Castillo from office after he sought to dissolve the congress and rule by decree. He attempted to run to the Mexican embassy, but the police stopped him on the way.
On Tuesday, a Peruvian judge rejected a motion by the prosecution to prevent Paredes from leaving the country as she is being looked into for her participation in a money-laundering network that may potentially involve Castillo.
But Mexico's Lopez Obrador said while his government prioritizes non-intervention in other nation's domestic affairs, he has diverted from that principle when it comes to perceived ideological allies in Latin America.
Castillo will remain locked up in pretrial detention for 18 months for further investigations.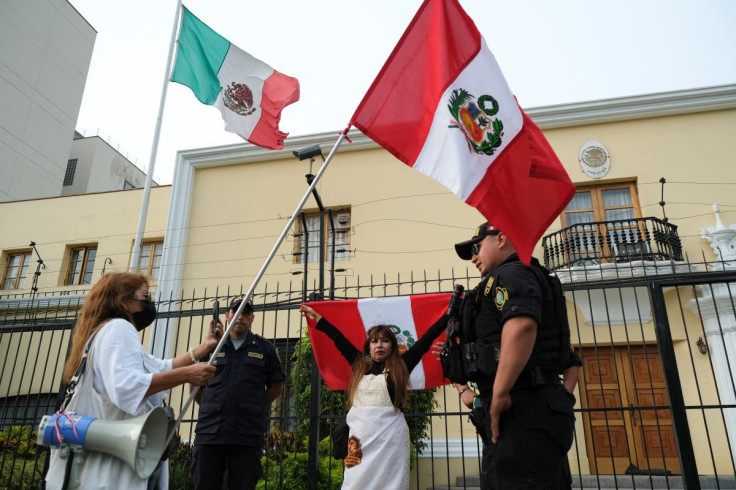 © 2023 Latin Times. All rights reserved. Do not reproduce without permission.