Another group of Russian Wagner Group mercenaries has reportedly reached Ukraine to assassinate Ukrainian President Volodymyr Zelensky and other high-ranking Ukrainian politicians.
The main Intelligence Directorate of the Ministry of Defense of Ukraine said on Sunday that another group of "militants linked to Yevgeniy Prigozhin, a Russian propagandist close to Vladimir Putin and owner of the Liga (Wagner), began arriving in Ukraine today." The Main Intelligence Directorate of the Ministry of Defense of Ukraine added that the "main task of criminals is to eliminate the top military and political leadership of Ukraine."
Fox News reported that apart from Zelensky, other "key targets" for the Russian mercenaries were Ukrainian Prime Minister Denys Shmyhal, Ukrainian film producer Andriy Ermak, and lawyers serving as Zelensky's chief adviser.
According to the Main Intelligence Directorate of the Ministry of Defense of Ukraine, Putin personally ordered another attack by one of the few proxies, and that all "previous attempts have ended in the failure and elimination of terrorists." For weeks, Ukraine's Ministry of Defense has sounded the alarm about several Russian mercenaries from the private military company Liga, formerly known as PMC Wagner, entering Ukraine. It was reported in February that Wagner mercenaries were being flown in from Africa on a mission to assassinate Zelensky.
Meanwhile, Zelensky said that any deal agreed in peace negotiations with Russia will be submitted to a referendum in Ukraine to let the people "weigh in," reported Daily Mail. He said that he explained it to all the negotiating groups that when they speak of all these changes in a future accord and they can be "historic... we will come back to a referendum." He noted that the people "will have to weigh in on certain kinds of compromise."
This comes as US President Joe Biden, who will soon travel to Europe to attend a summit with the North Atlantic Treaty Organization (NATO) leaders, discussed the war with politicians including UK Prime Minister Boris Johnson and President Emmanuel Macron of France.
Zelensky on Sunday warned of World War III if negotiations with Russia don't succeed. The Ukrainian President said that he's "ready for negotiations" with the Russian President, and he thinks that without "negotiations we cannot end this war." Zelensky told CNN that they have to "use any format, any chance in order to have a possibility of negotiating, possibility of talking to Putin." But he noted that if "these attempts fail, that would mean that this is a third World War."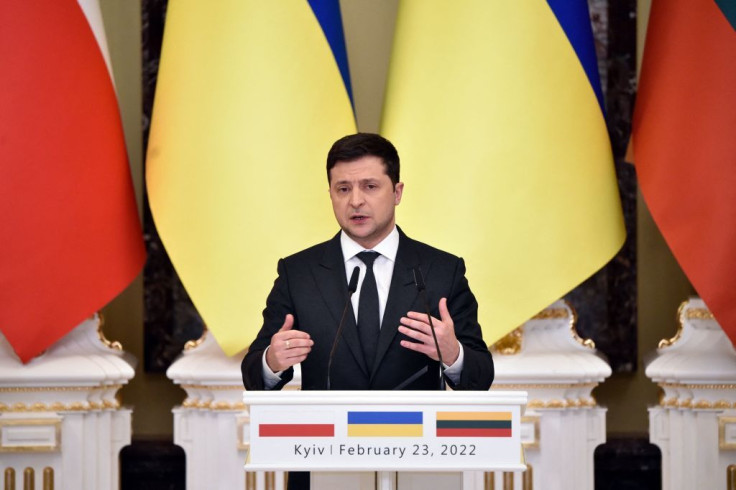 © 2023 Latin Times. All rights reserved. Do not reproduce without permission.