Having one's nails done is normal although there are some groups who to go the extreme to make themselves stand out and special. Unfortunately for Nail Sunny, a franchise based in Russia, their unusual nail job has sparked controversy once more.
This time around, their special manicure included a small fish in an aquarium-like nail job. Christened the aquarium manicure, the whole thing did not sit well with PETA. It was deemed sad and stupid by PETA Director Elisa Allen.
"There's no excuse for ripping sensitive fish out of their natural habitats and confining them to tiny, artificial enclosures – let alone ones attached to people's nails," they said. "Most people would be horrified to see these little animals floating helplessly in stagnant water.
In the clip that can be seen on Instagram, the aquarium manicure begins with a technician preparing a customer's nail before adding a silver glitter polish. From there, the nail tech creates a miniature aquarium by adding a long acrylic tank to attach to another one. Five live fish could be seen swimming in a shallow container with one taken out and poured into the tip of the false nail. In all, the small space hardly allows the small fish to move. A fake nail is attached to complete it.
After some seconds, the fish is returned to a plastic container followed by the others. The clip ends with all the fish placed in a plastic bag and then transferred to a tank. The video, seen more than 184,000 times, had a caption read that the fish were unharmed and returned to the pet store.
Regardless of that, the clip did not escape criticism. Some were concerned about the condition of the fish while others suggested some may have been returned dead.
This is not the first time that Nail Sunny has pulled off such a stunt. Before that, they used dead shrimp in manicures aside from creepy designs that made it look like the nails were alive.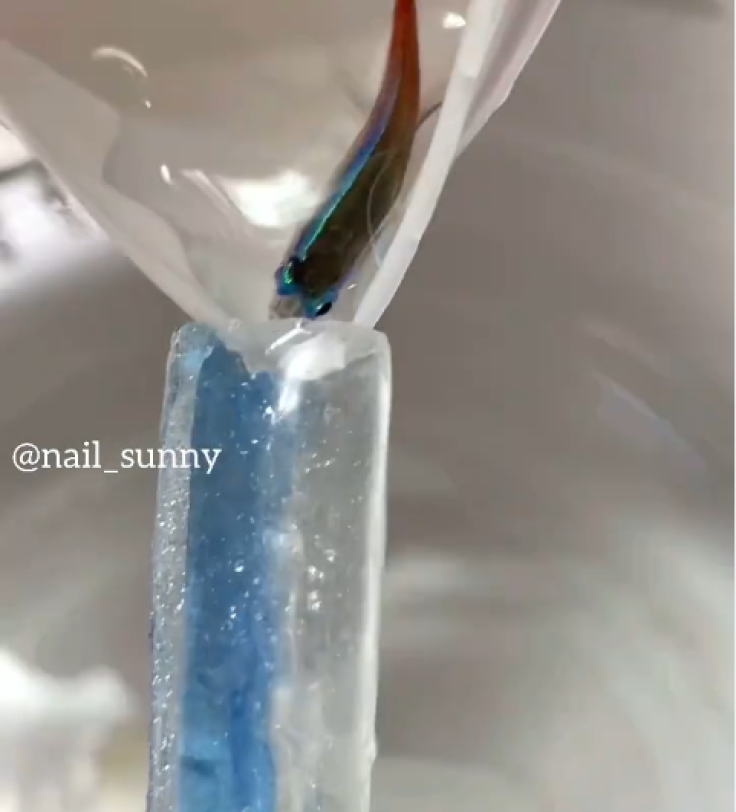 © 2023 Latin Times. All rights reserved. Do not reproduce without permission.