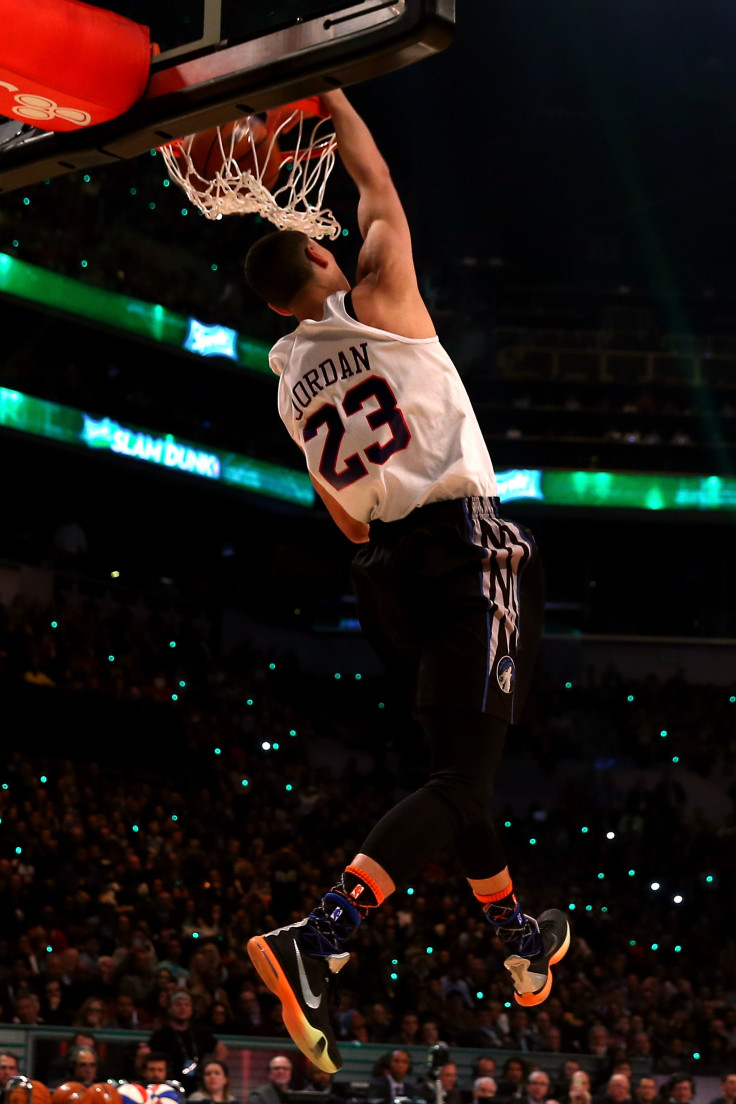 NEW YORK – The NBA's best dunkers were on display in the Big Apple on Saturday night and it was a Washington product who went to school in Los Angeles that put on a show. Zach LaVine, the high-flying rookie from the Minnesota Timberwolves won the contest in a landslide with some of the most spectacular dunks we've ever seen.
The participants in the 2015 edition of the dunk contest were Orlando Magic guard Victor Oladipo, Brooklyn Nets forward Mason Plumlee, Milwaukke Bucks forward Giannis Antekokounmpo and LaVine. Each participant was given two dunks in the first round and the combined score would decide the two finalists.
Oladipo was the first to impress in the first round as he came out with a tuxedo shirt and hat on. He informed the crowd that his new name was "Mr. 360" and that he would live up to that name in the first round. Oladipo completed two 360 dunks, one a difficult reverse that got him a perfect score of 50, and the second an off the side of the backboard 360 that he was able to flush home.
Not to be outdone however, LaVine brought the crowd to their feet with a through the legs one handed reverse that had everyone in the building in awe. LaVine came out wearing an old-school Michael Jordan Space Jam jersey. His second dunk was equally astounding as he went around the back in mid air to slam it home.
The final round was a bit of a disappointment as Oladipo started off with a difficult dunk that he was unable to execute. The Orlando Magic star grabbed the ball out of his teammate Elfrid Payton's hands who was seated in the key. Oladipo tried to leap over Payton, go through his legs and slam it home, but was unable to complete the dunk.
LaVine also used a teammate in his final round dunk as rookie sensation Andrew Wiggins held the ball out like the Statue of Liberty and LaVine took it out of his hands to go through the leg for the slam. The dunk was not as impressive as his first two, but was more than enough to defeat Oladipo.
© 2023 Latin Times. All rights reserved. Do not reproduce without permission.