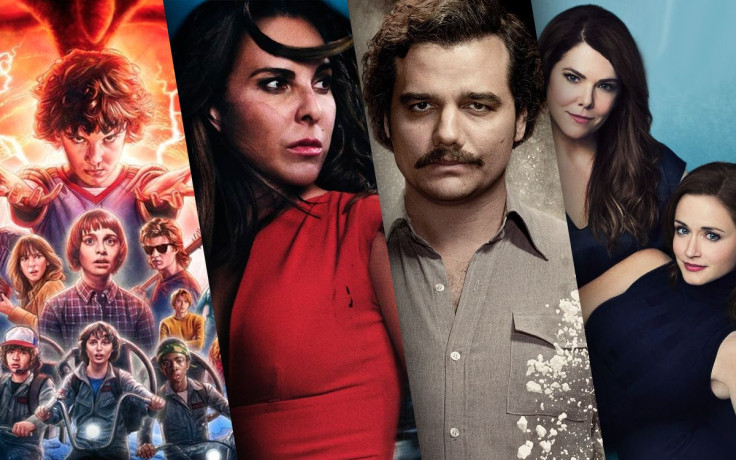 Netflix has become an integral part of our lives as the digital platform continues to provide must-see programming. 2017 brought a lot of learning and also, A LOT of watching. Netflix members around the world watched more than 140 million hours per day (that's a little more one billion hours per week in case you were wondering). The most popular of which fell on Sunday, January 1 - one day in and we already needed a comfort binge.
Mexico took the top spot for having the most members to watch Netflix every-single-day. There's also a fun little tidbit about "Pirates of the Caribbean: The Curse of the Black Pearl" as there was reportedly a member that watch that movie 365 days in a row. On the average, Netflix reports that a member watched 60 movies a year.
Though bingeing was standard in 2017, not all series were enjoyed in the same way - there were those we devoured, those we savored, those we cheated on, and those that brought us together...
The Shows We Devoured In 2017: These are the shows that we most binged this year.
We took an escape from reality in 2017 by devouring (watching more than two hours per day) sci-fi series likes of 3%, Travelers and The OA. The question of 'whodunit' (and didn't do it) in The Keepers and The Confession Tapes also had us watching with might.
American Vandal
3%
13 Reasons Why
Anne with an E
Riverdale
Ingobernable
Travelers
The Keepers
The OA
The Confession Tapes
The Shows We Savored: The shows we took our time watching.
We needed a laugh this year and found that solace by savoring (watching less than two hours per day) shows like Atypical, GLOW, Dear White People and Big Mouth. We also took care to enjoy the splendor ofThe Crown (it is a visual feast fit for a queen after all).
The Crown
Big Mouth
Neo Yokio
A Series of Unfortunate Events
GLOW
Friends from College
Ozark
Atypical
Dear White People
Disjointed
The Shows That Got Us Cheating: Shows we watched ahead of our significant others.
We couldn't resist the thrill of a thrill and shamelessly watched ahead of our significant others on Narcos, Ozark, Black Mirror and more (don't tell Marty).
Narcos
13 Reasons Why
Stranger Things
Orange is the New Black
Sense8
Black Mirror
Marvel's The Defenders
Marvel's Iron Fist
Ozark
MINDHUNTER
The Shows That Brought Us Together: Shows we watched as a group.
Whether for the adventure, Chief Hopper or bromance (#DadSteve), Netflix members ranked Stranger Things as the top show to watch together as a family. Nostalgia also scored top points for family watching via Star Trek: Discovery, Gilmore Girls: A Year in the Life and Fuller House.
Stranger Things
13 Reasons Why
A Series of Unfortunate Events
Star Trek Discovery
Gilmore Girls: A Year in the Life
Riverdale
Fuller House
Chef's Table
Atypical
Anne with E
© 2023 Latin Times. All rights reserved. Do not reproduce without permission.