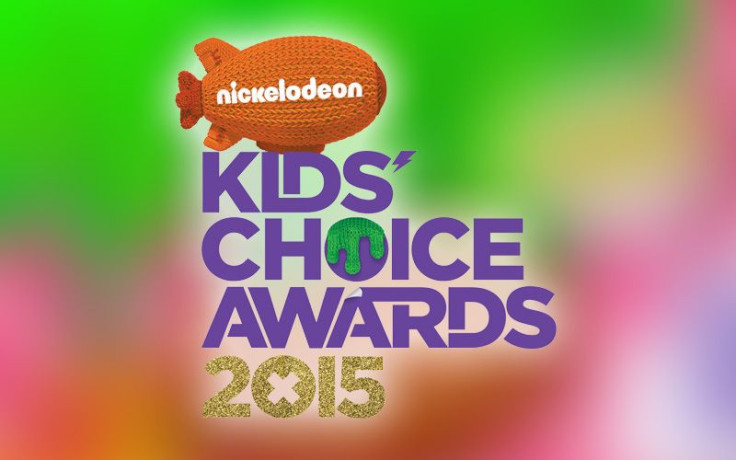 The Nickelodeon Kids' Choice Awards 2015 is one of the slimiest celebrations of the year. Host Nick Jonas will navigate viewers as the winners, chosen by the kids, will be revealed throughout the night. Fifth Harmony is set to perform, which has us extremely excited to see the quintent up on stage performing one of their smash hits. Other musical acts of the night include 5 Seconds Of Summer, Meghan Trainor, Echosmith, Jennifer Hudson and Iggy Azalea. Confirmed celebs dropping by are: Kevin James, Nick Cannon, Debby Ryan, Bethany Mota, Josh Gad, Liam Hemsworth, Ross Lynch, Laura Marano, Kaley Cuoco, Josh Peck, Tia Mowry, Shawn Mendes, Grant Gustin, Jamie Foxx and Emma Stone. You can live stream the event with clips from the show here and tune in to Nickelodeon on Saturday, March 28 starting at 8pm ET/PT for all the fun and excitement. Who are you most excited to watching?
Our girls of Fifth Harmony are nominated in the Favorite New Artist category, but they have it rough as they are up against 5SOS, Echosmith, Iggy Azalea, Jessie J and Meghan Trainor. At these awards shows, the artists that usually show up already know they are going to take home a blimp. Most of the nominated acts will be attending, so calling the winner is up in the air. Our girl Ariana Grande went from being nominated as an actress to take a spot in the Favorite Female Singer. In this category she will compete against Beyonce, Katy Perry, Nicki Minaj, Selena Gomez and Taylor Swift. In the Favorite TV Show category the following programs are nominated: "Austin & Ally," "Dog With A Blog," "Every Witch Way," "Henry Danger," "Jessie" and "Nicky, Ricky, Dicky and Dawn." Take a look at all the nominees down below and tell us who your favorites are!
Favorite TV Show
"Austin & Ally"
"Dog With A Blog"
"Every Witch Way"
"Henry Danger"
"Jessie"
"Nicky, Ricky, Dicky & Dawn"

Favorite Family TV Show
"Gotham"
"Shield"
"Modern Family"
"Once Upon A Time"
"Big Bang Theory"
"Flash"

Favorite TV Actor
Benjamin Flores, Jr
Charlie McDermott
Grant Gustin
Jack Griffo
Ross Lynch
Jim Parsons

Favorite TV Actress
Chloe Bennett
Debby Ryan
Jennifer Morrison
Laura Marano
Kira Kosarin
Kaley Cuoco-Sweeting

Favorite Cartoon
"Adventure Time"
"Phineas & Ferb"
"Spongebob Squarepants"
"Teenage Mutant Ninja Turtles"
"Teen Titans Go!"
"The Fairly Odd Parents"

Favorite Book
"Diary of a Wimpy Kid Series"
"Divergent Series"
"Heroes of Olympus Series"
"Percy Jackson's Greek Gods"
"The Fault In Our Stars"
"The Maze Runner"

Most Addicting Game
Angry Birds Transformers
Candy Crush
Disney Infinity 2.0
Mario Kart 8
Minecraft
Skylanders Trap Team

Favorite Villain
Angelina Jolie, "Maleficent"
Cameron Diaz, "Annie"
Donald Sutherland, "The Hunger Games"
Jamie Foxx, "The Amazing Spider-Man 2"
Lee Pace, "Guardians of the Galaxy"
Meryl Streep, "Into The Woods"

Favorite Reality Show
"American Ninja Warrior"
"Cupcake Wars"
"Dance Moms"
"Masterchef Junior"
"Shark Tank"
"Wipeout"

Favorite Talent Competition Show
"America's Got Talent"
"America's Next Top Model"
"American Idol"
"Dancing With The Stars"
"So You Think You Can Dance"
"The Voice"

Favorite Movie
"Guardians of the Galaxy"
"Maleficent"
"Teenage Mutant Ninja Turtles"
"The Amazing Spider-Man 2"
"The Hunger Games: Mockingjay – Part 1"
"Transformers: Age of Extinction"

Favorite Movie Actor
Ben Stiller
Hugh Jackman
Jamie Foxx
Mark Wahlberg
Steve Carell
Will Arnett

Favorite Movie Actress
Angelina Jolie
Cameron Diaz
Elle Fanning
Emma Stone
Jennifer Garner
Megan Fox

Favorite Animated Movie
"Big Hero 6"
"How To Train Your Dragon 2"
"Penguins of Madagascar"
"Rio 2"
"The Lego Movie"
"The Spongebob Movie: Sponge Out Of Water"

Favorite Male Action Star
Andrew Garfield
Channing Tatum
Chris Evans
Chris Pratt
Hugh Jackman
Liam Hemsworth

Favorite Female Action Star
Ellen Page
Evangeline Lilly
Halle Berry
Jennifer Lawrence
Scarlett Johansson
Zoe Saldana

Favorite Song of the Year
"All About That Bass" by Meghan Trainor
"Bang Bang" by Jessie J, Ariana Grande, & Nicki Minaj
"Dark Horse" by Katy Perry
"Fancy" by Iggy Azalea featuring Charli XCX
"Problem" by Ariana Grande featuring Iggy Azalea
"Shake It Off" by Taylor Swift

Favorite New Artist
Five Seconds of Summer
Echosmith
Fifth Harmony
Iggy Azalea
Jessie J
Meghan Trainor

Favorite Music Group
Coldplay
Fall Out Boy
Imagine Dragons
Maroon 5
One Direction
OneRepublic

Favorite Male Singer
Blake Shelton
Bruno Mars
Justin Timberlake
Nick Jonas
Pharrell Williams
Sam Smith

Favorite Female Singer
Ariana Grande
Beyonce
Katy Perry
Nicki Minaj
Selena Gomez
Taylor Swift
© 2023 Latin Times. All rights reserved. Do not reproduce without permission.