An exhaustive report on child sex abuse in the French Catholic Church published on Tuesday has uncovered thousands of assault and molestation cases over the past 70 years following over two years of the extensive probe.
The probe by an independent French commission scrutinized Church, court, press, and police files, resulting in a 2,500-page document detailing how about 3,000 child abusers served the religious denomination in France for over seven decades, ABC News reported.
In a news conference, Jean-Marc Sauve, the president of the commission, revealed that there were around 330,000 victims of abuse in the Church if offenses by lay members such as Catholic schools educators were to be included.
The damning paperwork stressed that around 216,000 individuals were victims of French priests and nuns alone, with the rest committed by church figures such as scout leaders or camp counselors. It supposes that 80 percent of the victims were boys.
These figures are heavily based on a larger study commissioned by France's National Institute of Health and Medical Research (INSERM) into sexual abuse of children in France, which inversely found that 75 percent of the overall victims were girls.
The independent commission has since denounced the "faults" and "silence" of the Church, calling on leaders to take stringent action to combat such offenses that plague the institution.
It also urges the Catholic Church to compensate the victims, especially those from cases that are now too old to prosecute via French court. Only 22 of the thousands of cases of criminal pedophilia are qualified for legal action, the Daily Beast noted.
In one case narrated by the victim "Marie," who came from a devout Catholic family, she said she was abused by a nun when she was 11 years old, noting she was chosen by the harasser once every three times, with the abuse lasting for about a year.
"She would put me on her knees to make me read the gospel according to Saint Paul or another saint, while she squeezed me with one hand to her chest and pulled down my panties with the other hand," she said, noting that the appalling ordeal paralyzed and left her aghast.
Despite efforts to speak out and ask for help from her parents, Marie said she was instead reprimanded for such accusations that it ultimately backfired on her. "You are a pervert, a vicious liar. How dare you say such things?" her parents reportedly told her.
At 35 years old, the abuse survivor would tell her mother again about the abuse but her claims were dismissed because the matriarch insists a nun can't abuse a girl.
"Female pedophilia exists and unfortunately the media never talk about it," Marie laments.
Meanwhile, Pope Francis, the current head of the Catholic Church and sovereign of the Vatican City State, expressed "pain" and "sorrow" over the devastating report, saying his heart goes to the victims.
"His thoughts turn first to the victims, with great sorrow for their wounds and gratitude for their courage in speaking out," spokesman Matteo Bruni said in a statement.
Subsequently, the head of the French conference of bishops, Monsignor Eric de Moulins-Beaufort, would call out the appalling behavior, expressing shame as he asked for forgiveness from the victims and their families, Deutsche Welle noted.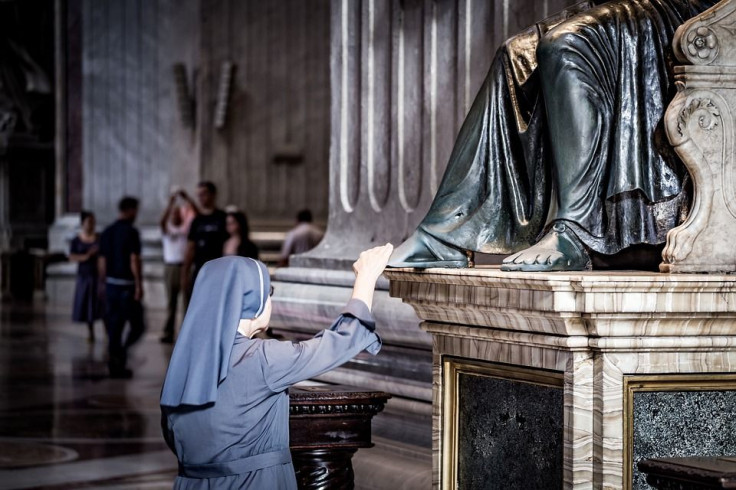 © 2023 Latin Times. All rights reserved. Do not reproduce without permission.