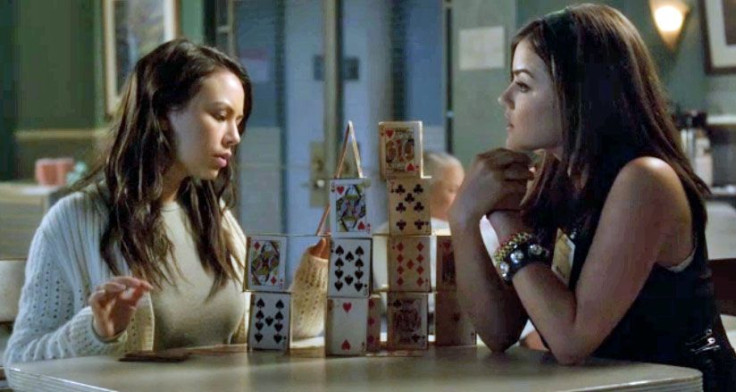 Despite fans being on a hiatus from "Pretty Little Liars" the intense speculation and crazy theories have not stopped. Instead while we are on a break from Season 5 and desperately awaiting the premiere of the first ever "Pretty Little Liars" Christmas episode, fans seem to have more time than ever to speculate on the mysteries that were uncovered in the first half of the season, and predict what "A" action is still yet to come! The most recent fan theory that has us thinking is of course regarding the death of Mona, who was killed in her home on Thanksgiving Day, and a new fan theory now states that it was Aria who was responsible for the vicious murder.
Dedicated "Pretty Little Liars" fan and Tumblr user "killerariaisA" has a well-developed theory that reveals Aria is "A" as well as Mona's killer. Aria and Mona have always had a tumultuous relationship, mainly beginning with Mona who was "A" at the time harassing, torturing and later attempting to kill Aria and her three best friends. The relationship obviously already filled with tension was only made worse, when following a stint in Radley; Mona began to date Aria's younger brother Mike. Arias was outwardly opposed to Mike and Mona being a couple, reminding her father Byron to the uncomfortable past between the two, and also warning her brother to steer clear of Mona.
However, Arias seemed to boil over the edge when Mona joined her family for an old fashioned movie, thinking her mother would be in attendance, Mona's presence shocked Aria. However, she quickly recovered, secretly whispering a threat to Mona that prompted to her leave the theater in a fit of hysterics, not easily shaken whatever Aria had said left an impression. After not realizing what caused Mona the initial distress, Mike asked Aria to go check on Mona in the bathroom, upon entering the bathroom, Mona told her, "You know right where to put the knife, and you're not afraid to twist it"? Considering fans never knew what exactly Aria said to Mona, the theory believes that this line was inserted as foreshadowing for Mona's upcoming death.
The idea of Aria being "A" has been discussed before, with our full theory explained here, but while ours is based off of intimate clues within the show, Tumblr user "killerariaisA" claims that one reason Aria may be "A" in addition to Mona's killer mainly due to a mental illness she suffers from. The theory states that Aria may suffer from Multiple Personality Disorder (MPD), and is mainly based off of the notable history of mental illness in her family. Aria's Uncle Scott, her father's brother suffered from mental illness and committed suicide, in addition her brother Mike has struggles with his inability to control his emotions and rage, so is it plausible that Aria too suffers from mental illness.
Do you think Aria is "A" and killed Mona? Comment below and let us know, and check out this amazing fan made video about Aria being "A."
© 2023 Latin Times. All rights reserved. Do not reproduce without permission.