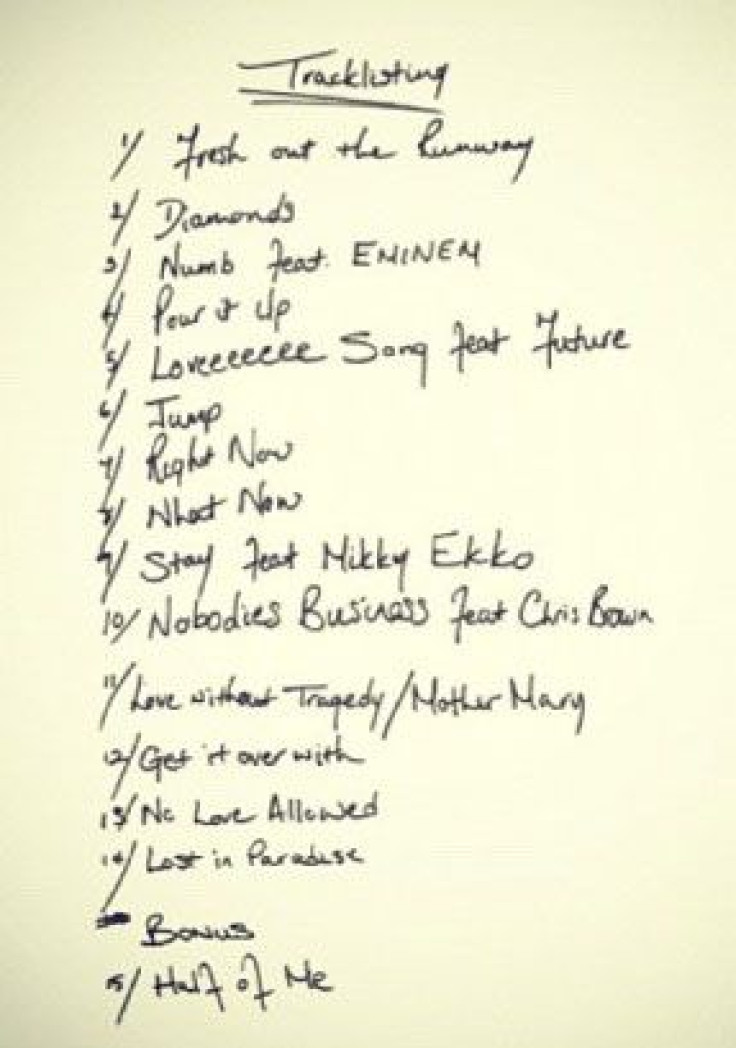 This morning, Rihanna released the official track list for her upcoming album, "Unapologetic," which is set to drop on Nov. 19.
Of the 15 tracks on the album, one stood out - a collaboration with Chris Brown.
No. 10 on the album is "Nobodies Business" featuring Chris Brown.
Brown beat up Rihanna more than three years ago the night before the Grammys. Brown plead guilty to assault and was sentenced to five years probation, community service and domestic violence counseling.
Last month, Rihanna and Brown were caught up in a love triangle that prompted Brown to release a video about his thoughts.
After the video's release, Rihanna chimed in, tweeting to her 26.1 million followers, "Ain't nobody bidness..... But mine and my baby!"
Brown said that he is single.
"I have decided to be single to focus on my career," Brown said in a released statement. "I love Karrueche very much but I don't want to see her hurt over my friendship with Rihanna. I'd rather be single allowing us to both be happy in our lives."
At the 2012 VMAs, Rihanna and Brown hugged and kissed briefly in front of the entire audience.
In August, Rihanna told Oprah Winfrey that she Chris Brown are "still close" and "will always love each other."
The couple broke up following the 2009 attack that included punching, biting and choking
Track list of Rihanna's "Unapologetic."
1. "Fresh Out the Runway"
2. "Diamonds"
3. "Numb" (ft. Eminem)
4. "Pour It Up"
5. "Loveeeeeee Song" (ft. Future)
6. "Jump"
7. "Right Now"
8. "What Now"
9. "Stay" (ft. Mikky Ekko)
10. "Nobodies Business" (ft. Chris Brown)
11. "Love Without Tragedy" / "Mother Mary"
12. "Get It Over With"
13. "No Love Allowed"
14. "Lost in Paradise"
15. "Half of Me" (Bonus Track)
© 2023 Latin Times. All rights reserved. Do not reproduce without permission.