Chapter Ninety-Four of "Riverdale" season 5 should be something to watch, filled with new twists among the main cast. However, it all starts with the recent discovery of Betty (Lili Reinhart) and Alice Cooper (Madchen Amick) that Polly is dead.
In Chapter Ninety-Three, the episode ended with the discovery at the trunk of an abandoned car at the junkyard by Betty and Alice Cooper. Although the body was never shown, it was obvious that it was Polly.
This will carry on in chapter ninety-four where Betty and Alice Cooper struggle to get over the death of Polly. Both will have tense moments, including that of pinning the blame on Polly's death.
Of course, there are more. That includes the Archie (KJ Apa) and Veronica (Camila Mendes) relationship. Both end up living together in Archie's house. But with both living in different worlds, a breakup will be happening yet again.
There is also the case of Toni Topaz (Vanessa Morgan) and Fangs Fogarty (Drew Ray Tanner). Although close and previously on same-sex relationships, the new twist is that both admit that they are in love with each other. For those who watched chapter ninety-three, it appeared obvious that this was headed here.
There is also the Tabitha Tate (Erinn Westbrook) and Jughead (Cole Sprouse) relationship. Tabitha wants to leave an impression on her work at Pop's but also asks Jughead to pretend to be her boyfriend.
But as one would expect, Tabitha ends up asking Jughead to be her boyfriend for real. The timing was off but in the end, it does happen. Both leave the diner and head to Jughead's room at Archie's garage and kiss.
Cheryl Blossom (Madelaine Pesch) will have some participation in helping a displaced Britta (Kyra Leroux) as well.
Other characters are left hanging. That includes Hiram Lodge (Mark Consuelos) and Reggie Mantle's (Charles Melton) transformation into a professional stockbroker. Could this spark a potential relationship with Veronica after that breakup with Archie?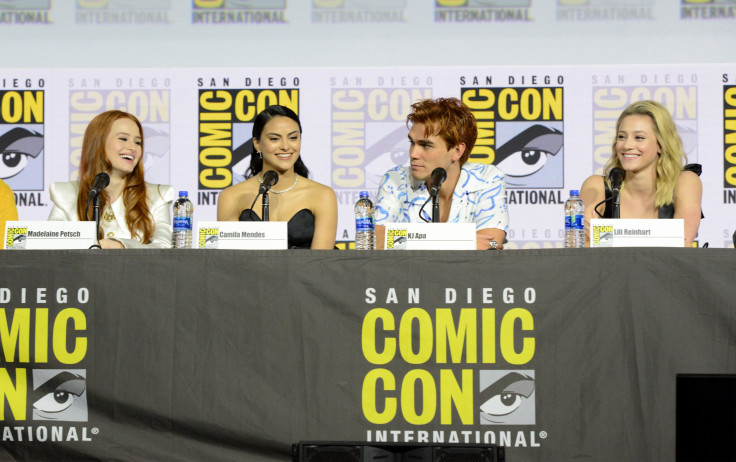 © 2023 Latin Times. All rights reserved. Do not reproduce without permission.