Movie star Tom Cruise was seen holding Kate Middleton's hand as she walked up the stairs during the premiere of Cruise's new movie on Thursday, causing many observers to comment about the apparent royal protocol break that occurred.
Prince William and Kate Middleton were spotted attending the London premiere of Cruise's new movie "Top Gun: Maverick" in Leicester Square, with the event being hosted by Paramount Pictures and The Film and TV Charity as an official Royal premiere, according to Page Six.
Kate Middleton was seen wearing a sleek black and white Roland Mouret gown inspired more by Hollywood styles and fashion trends, while William wore a tuxedo with a bow tie that he appeared to be adjusting while walking up the cinema steps, Bustle reported.
While they were moving up the stairs, Cruise was seen offering his hand to Kate as they walked the stairs in an attempt to help her and ensure that she did not accidentally fall down whilst moving up. Many who observed the incident are openly wondering if the act broke royal protocol due to Cruise apparently touching a royal.
"Bless Tom Cruise. He looks like he takes everything he does so seriously, including escorting the Duchess up the stairs. I think William is struggling to hold it together," a fan wrote online.
Some noticed that after Cruise helped Kate in the first set of stairs, she switched her clutch bag to her other hand to ensure that Cruise would not offer his hand to hers anymore in the future.
"Kate Middleton then immediately switched her clutch so he didn't touch her again as she went up the next set of stairs like a total #bossroyal who wasn't going to be touched by Tom Cruise," Erin Watson, a Twitter user, said.
Royal protocol reportedly dictates that people do not extend or touch members of the royal family unless they themselves offer it first, though it is unclear as to how widely followed this rule is among other commoners.
"There are no official rules when it comes to touching a member of the Royal Family. It's more down to what's acceptable in society or not. I think there are a lot of things that are perceived as royal etiquette or royal protocol that we assume might be the case but aren't actually," Omid Scobie said.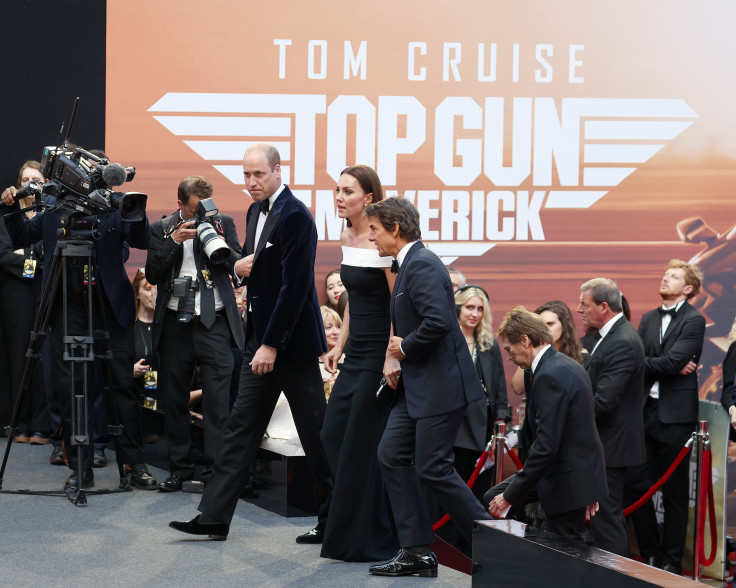 © 2023 Latin Times. All rights reserved. Do not reproduce without permission.