Vladimir Putin is pressing in on Kiev, which has been left to defend itself against a Russian juggernaut. His forces have taken control, resulting in Ukrainian bloodshed since the Western alliance has disregarded the Kremlin.
The opening salvos of the special operation authorized to aid landlocked Donbas and Luhansk took down important military facilities with directed missile attacks in the hours that followed.
The Russian president declared that the Ukrainian government is responsible for the bloodshed. Reports said the Kremlin leader also issued a terrifying warning after his soldiers moved to Kiev.
Putin stated that if the EU and leaders of the free world do not assist Kiev today, war will come knocking on their doors.
Putin has already breached a promise not to invade Ukraine, despite his own language implying that this is a "special operation" to "demilitarize" and "denazify" the country while also defending Russians in the country's east who he believes are being persecuted.
However, many Eastern European countries are concerned that the conflict may spread to mainland Europe on a larger scale.
However, these countries hope that the conflict does not spread to the rest of Europe.
While the West has remained silent, Russian forces have targeted other cities on the second night that the capital city has been bombarded. Tens of thousands of Ukrainians have fled to the country's west to escape the invading arm.
Fears of a mass exodus to the EU are already forming as locals seek to flee the bloodshed.
Volodomy Zelenskyy, the president of Ukraine, has warned per BBC News that the Kremlin leader will not stop at Kiev, citing fears that Europe as a whole is in jeopardy.
According to Zelenskyy, Moscow invaded when it stated it wouldn't; it's dubbed a special operation to demilitarize and halt Nazism in order to protect oppressed Russians.
For the past eight years, Russia has backed a brutal armed uprising in eastern Ukraine. Since then, 14,000 individuals have died in battle, including many civilians.
The European Union, the United Kingdom, and the United States have all condemned Russia's invasion and imposed sanctions that will have no effect on Moscow.
Experts have warned that sanctions will be retaliated against the West because Russia has prepared. Reuters said shutting off the gas supply to the EU is one method for bringing the EU's energy to a halt.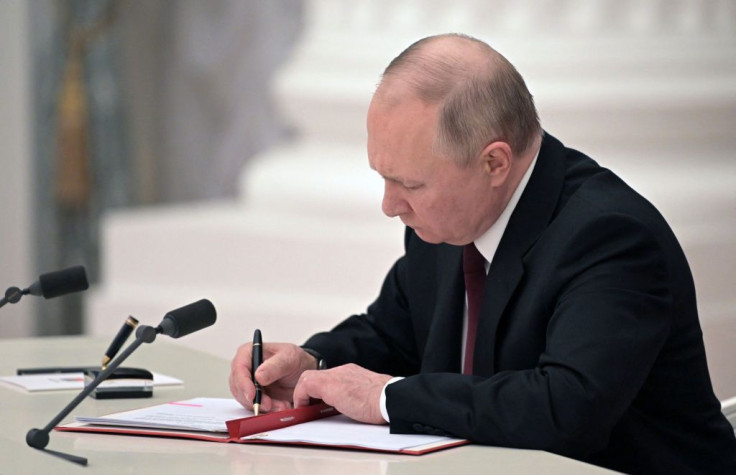 © 2023 Latin Times. All rights reserved. Do not reproduce without permission.