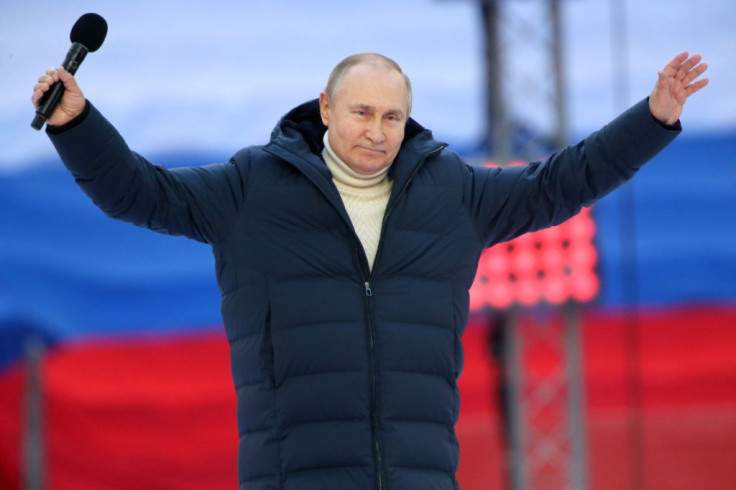 Russians allegedly were forced to attend a pro-war rally on Friday at the Luzhniki Stadium in Moscow where President Vladimir Putin took to the stand insisting that the Kremlin's war on Ukraine will prevail. Tens of thousands of Russians were seen cheering and waving Russian flags inside the stadium as they listened to their leader speak in a rare public appearance since the Ukrainian invasion began.
According to the BBC, the huge rally brought in workers from the public sector who said they were pressured by their employers to attend. Reporters who interviewed people queued outside the stadium said many students were given the option of a day off from lectures if they attended a "concert" at the stadium. The students said they had no idea what the event was. A group of teachers also revealed they were forced to participate in the rally.
Most of the attendees lining up to enter the venue refused to be filmed and interviewed although some who braved to answer questions said they believe most people at the venue do not support the war.
However, footage of the packed stadium told a different story. Russians wearing clothing with the letter "Z" printed on them can be seen as they cheered and waved pro-war flags chanting "Russia!" Slogans that read "For a world without Nazism " decked out the stage, serving as a background for performances that depicted support for the Kremlin. Patriotic songs rang out of the stadium such as " Made in the USSR" – with its opening lines "Ukraine and Crimea, Belarus and Moldova, it's all my country" ringing throughout the packed venue.
Putin appeared to address the crowd donning a $14,000 designer jacket causing even more disdain for his display of extravagance in the height of an ongoing war. Social media users did not mince their words over Putin's show of extravagance as they pointed out how his invasion of Ukraine has caused economic damage, and an enormous humanitarian crisis even in his own country.
As he spoke to the cheering crowd, Putin justified his decision to invade Ukraine as he promised that all of the Kremlin's goals will be achieved. "We know what we need to do, how to do it, and at what cost. And we will absolutely accomplish all of our plans," Putin said. He continued that Russian soldiers deployed to Ukraine have remarkably displayed strong unity.
"Shoulder to shoulder, they help each other, support each other and when needed, they shield each other from bullets with their bodies like brothers. Such unity we have not had for a long time," the Russian president added.
A video feed of the rally was broadcast to the world with Moscow claiming that more than 200,000 supportive Russians were in attendance, officially marking the 8th anniversary of Russia's annexation of Crimea.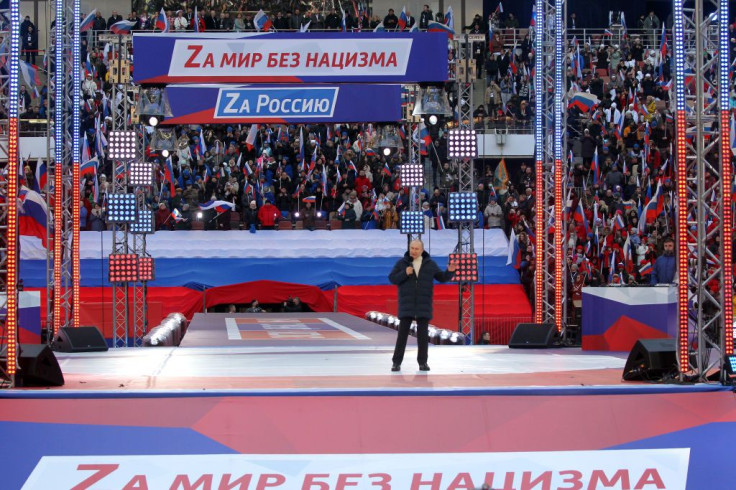 © 2023 Latin Times. All rights reserved. Do not reproduce without permission.