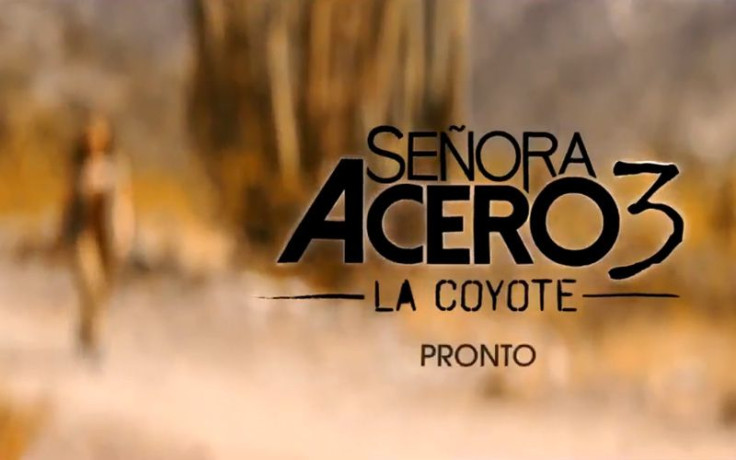 Blanca Soto might have quit on Telemundo's "Señora Acero," but that doesn't mean the series was canceled. The Spanish-language network premiered a teaser for season 3 during Premios Billboard 2016.
This preview is extremely cryptic since there's not much that happens in it. We see a group of people walking through the desert and the words "the saga continues" flashing across the screen. At the end of the clip the logo of the series appears with the number three and a subtitle reading "La Coyote."
The people who aid immigrants crossing the Mexico-U.S. border succesfully are called "coyotes." This hints that the main character of this new chapter will have something to do with that.
Watch the teaser promo below and tell us what you think!
Season 2 of "Señora Acero" ended with a shocker when the lead character played by Blanca Soto died. How could that be possible? The telenovela is called "Señora Acero" and what is "Señora Acero" without the "Señora Acero" you may ask?
At the time the season ended it had already been revealed that a third installment had been commissioned. Roberto Stopello, head writer of the series, confirmed this on Twitter following the finale.
"We will see you in the third one, pum," he wrote. Then he made the biggest revelation writing: "To all of you that ask, with Sara gone, in the 3rd El Gallo and Salvador will take control of the business."
"Señora Acero" season 2 had Sara Aguilar (Blanca Soto) jailed for five years without a sentence. But when an attack on her teenage son Salvador (Michel Duval) happened, she was more than determined to escape.
The attempt ended in tragedy and a 25-year jail term. Fate had other plans however, and Sara's best friend Aracely (Litzy) discovered a key piece of evidence that would set Sara free. From that moment on, her enemies reckoned the fury of Señora Acero.
© 2023 Latin Times. All rights reserved. Do not reproduce without permission.