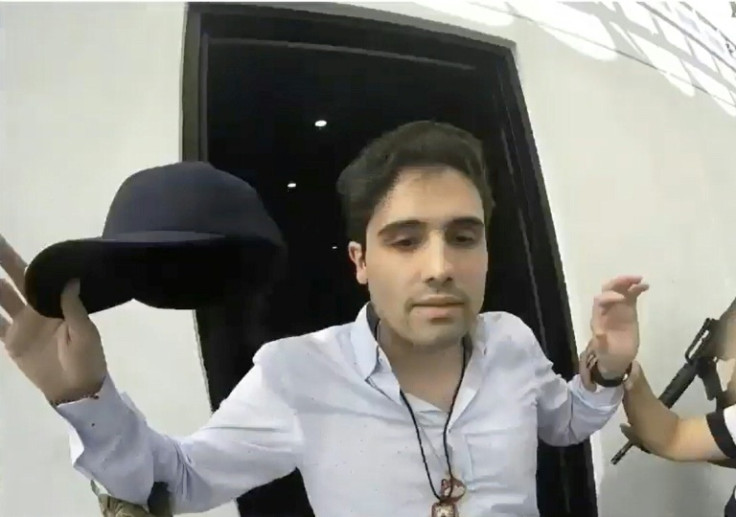 Ovidio Guzmán López, son of infamous Mexican drug lord Joaquin "El Chapo" Guzmán, pleaded not guilty to charges related to drug trafficking and money laundering on Monday.
This marked his first appearance in a U.S. courtroom following his extradition from Mexico, which took place on Sept. 15.
Ovidio appeared before U.S. District Judge Sharon Johnson Coleman at the Dirksen United States Courthouse in downtown Chicago wearing an orange jumpsuit and restraints on Monday afternoon.
In the courtroom session that extended for 15 minutes, Ovidio pleaded not guilty to the charges through a translator. The courtroom witnessed a larger-than-usual security presence during the arraignment.
Prosecutors revealed during the court session that the death penalty had been ruled out as part of the extradition negotiations with Mexican authorities. However, two out of the six charges against Ovidio carry a mandatory life sentence if convicted.
Ovidio's extradition came after the release of Emma Coronel Aispuro, El Chapo's wife, from a U.S. prison on Sept. 13. She had served close to two years in prison on charges of drug trafficking and money laundering.
The judge ordered him to remain in custody without bond until the trial. A status hearing has been scheduled for Nov. 17.
Mexican authorities apprehended Ovidio in a high-stakes operation that unfolded in Culiacán, a city in the state of Sinaloa, in January this year. Sinaloa is home to one of the world's most influential drug trafficking syndicates, the Sinaloa Cartel, which was formerly led by El Chapo.
Ovidio's arrest triggered widespread chaos, prompting authorities to advise citizens to take shelter at home as law enforcement engaged in confrontations with members of the cartel.
At least 19 suspected members of the gang and 10 military personnel died during the clashes. No civilian injuries or fatalities were reported. This operation, which led to the loss of 29 lives, resulted in Ovidio's arrest. He has remained in custody since the incident.
Ovidio had previously been arrested in October 2019 but was released upon the orders of President Andrés Manuel López Obrador to prevent violence, after which he remained in hiding until his arrest in 2023.
The United States had been actively seeking his extradition on drug trafficking allegations. Authorities believe that Ovidio and his brother Joaquín Guzmán López, who are collectively known as little "Chapos" or the "Chapitos," acquired a significant portion of the drug proceeds after the death of another sibling named Edgar Guzmán López.
The siblings were also alleged to oversee an estimated 11 methamphetamine laboratories in Sinaloa state. However, the brothers had denied the accusations of trafficking fentanyl through a letter, stating that they had no involvement in the production and trafficking of fentanyl.
"We have never produced, manufactured or marketed fentanyl or any of its derivatives. We are victims of persecution and they made us a scapegoat," the brothers said in the letter.
Meanwhile, their father, El Chapo, was found guilty of running the Sinaloa cartel in 2019 and is currently serving a life sentence at the maximum-security prison in Colorado.
© 2023 Latin Times. All rights reserved. Do not reproduce without permission.