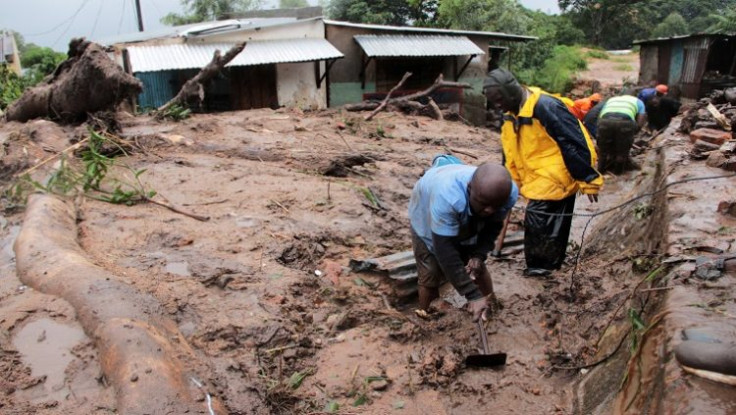 After Tropical Storm Freddy tore across southern Africa for the second time in a month, more than 200 deaths have been officially recorded in Malawi.
Homes have been destroyed by massive brown water that has flooded neighborhoods. Most of the fatalities, including scores of children, have been reported in Malawi's commercial center of Blantyre.
Humanitarian organizations have issued a warning that the devastation will make a cholera outbreak in Malawi worse.
A state of disaster has been declared by the government in 10 southern districts that have been hardest hit by the storm.
Rescue workers are overwhelmed and are using shovels to try to find survivors buried in mud.
"We have rivers overflowing, we have people being carried away by running waters, we have buildings collapsing," police spokesman Peter Kalaya told the BBC.
Aaron Ntambo, a resident of Blantyre, recalled helping to save a child and said, "The child was stuck up to her head in the mud. She was crying for help. Even though the water was very strong, we managed to cross and rescue her. It was very difficult, but we managed to pull her out."
Authorities at the city's primary referral hospital claimed they were overwhelmed by the sheer volume of bodies they were receiving.
Doctors Without Borders, a medical relief organization, reported that more than 40 children were already dead when they arrived at the hospital.
When the hospital's mortuary was at capacity, officials pleaded with mourning relatives to gather the bodies for burial. More than 20,000 people have been relocated, according to the government's disaster assistance organization.
The death toll is anticipated to grow as some places remain shut off because of unrelenting rain and high winds. The storm has also severely hampered Malawi's electricity infrastructure, resulting in protracted outages in the majority of the nation.
The national electricity company said it was unable to get its hydro-power plant working as it had been filled with debris.
Densely populated poorer communities, living in brick and mud houses, have been hardest hit. Some of these houses have crumbled into flood waters, while others have been entirely swept away.
Rescue efforts had been impeded by the collapse of roads and bridges, and helicopter use had also been hindered by the intense rain and strong winds.
Tens of thousands of people have been left without food and shelter, and the government has made an appeal for assistance.
The World Meteorological Organization claims that Freddy is the strongest tropical storm ever recorded and that it may also be the longest-lasting one.
After severely damaging the island nation of Madagascar in the Indian Ocean, the storm hit Mozambique as a cyclone on Sunday for the second time in less than a month.
Due to the fact that phone and power supplies were cut off in some portions of the impacted areas, it has been challenging to estimate the amount of damage done to Mozambique and the number of fatalities.
Thus far, there have been reports of about 20 deaths.
According to experts, climate change is causing tropical storms to become wetter, windier, and more intense globally. Freddy had broken records for the strength it accumulated over the 8,000-km (5,000-mile) path it travelled across the Indian Ocean from north-western Australia.
© 2023 Latin Times. All rights reserved. Do not reproduce without permission.