Mexico has been known to be a dangerous place to be in and cartels there are struggling for power. And from the looks of it, tensions are rising all the more with tanks spotted in the streets.
A video (seen below) surfaced recently showing an armored vehicle with the initials of CJNG towing a tank on social media. It was spotted going down the street of El Aguaje, Aguililla in broad daylight, allegedly seized from the Los Viagra crime gang in the Tierra Caliente region of Michoacan, Mexico News Daily reported.
There were six heavily-armed men and a woman seen riding the stolen tank. One of the men said that it was a "little gift" whole others could be heard claiming they were Mencho's people.
For those who may not be aware, "Mencho or El Mencho" is about the CJNG fugitive leader Nemesio Oseguera Cervantes. He succeeded in the void left by Joaquin Guzman Loera or "El Chapo" after the latter was extradited to the US according to the US Drug Enforcement Administration (DEA).
Also, this is not the first sighting of armored vehicles in the streets of El Aguaje, Aguililla. Others have been spotted in the country in the past.
For senior analyst on Mexico for the International Crisis Group Falko Ernst, the video was something used to send a clear warning on any potential retaliation by the cartel on the government.
"This [video]... taken in the Jalisco Sierra as I'm told, is more than clear in its message toward the fed gov: You come after us, and we will strike back," Ernst stated in a separate report.
In the eyes of DEA specialists, the Jalisco Cartel continues to grow with Mexico's President, Andres Manuel Lopez Obrador, lacking the effort to properly enforce the law against drug trafficking.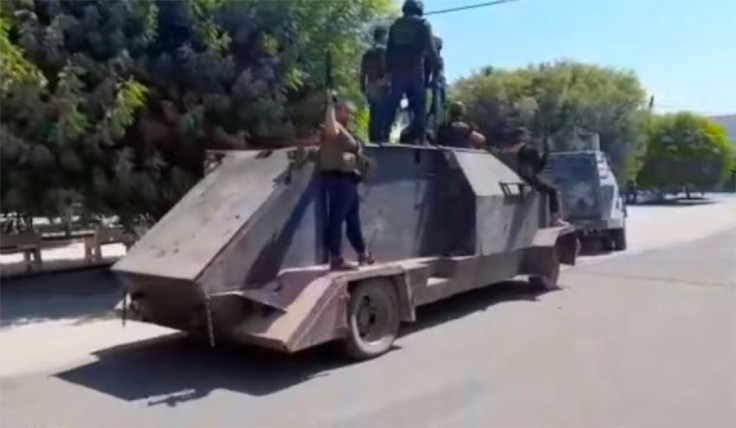 © 2023 Latin Times. All rights reserved. Do not reproduce without permission.