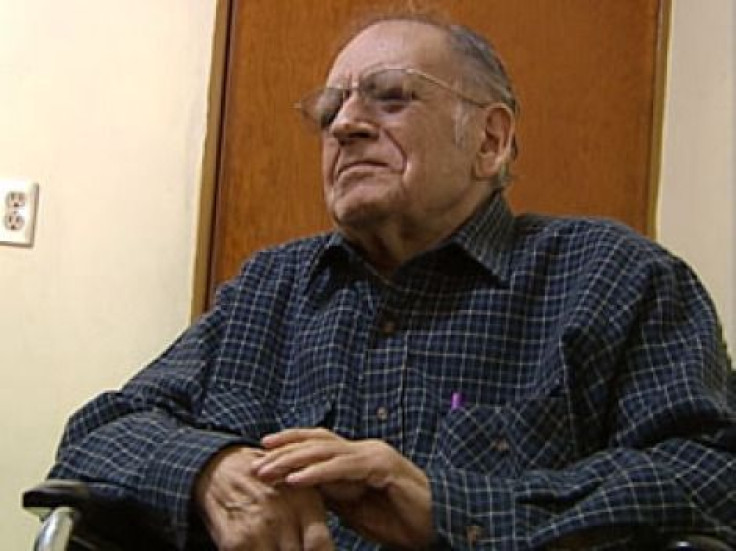 Alfredo Ballí Treviño is a name that to many people didn't mean anything until recently. The Mexican doctor turned out to be the inspiration behind Thomas Harris' infamous character Hannibal Lecter.
Harris released a new edition for the 25th anniversary of his acclaimed novel "The Silence of the Lambs," where, in a special introduction, he finally revealed who was the real person behind the evil doctor that left many people sleepless and who was later made famous on the big screen by Sir Anthony Hopkins.
RELATED: Who Was The Real Hannibal Lecter? See Photo Of Gay Mexican Doctor Alfredo Balli Trevino Who Was Inspiration For 'Silence Of The Lambs' Character
Although he used the pseudonym "Dr. Salazar" to protect the real doctor's identity, the information provided matched a very peculiar case covered by the Mexican media in the early 1960's about a medical intern who was the last person in Mexico to be sentenced with the death penalty.
That person was Ballí Treviño, convicted for the murder of his sentimental partner, Jesús Castillo Rangel. He was also accused of secretly burying his victim's body and usurpation of profession, but his sentence was commuted to 20 years at the Topo Chico Penitentiary in Nuevo León.
Harris was a 23-year-old journalist sent to the Nuevo Leon State Prison in Monterrey to interview mental patient Dykes Askew Simmons who was under a death sentence for killing three young people. Along the way he encountered "Dr. Salazar," who had saved Simmons' life after he was wounded in prison, and decided to interview him too, to add more content to his story.
RELATED: Dr. Alfredo Balli Trevino Knew He Was The Real 'Hannibal' And Other Unknown Details Of His Life
It was later that Harris learned of Dr. Salazar's history from the prison warden. He recalls his encounter: "Dr. Salazar was a small, lithe man with dark red hair. He stood very still and there was a certain elegance about him ... (After talking to him for a while) ... the warden walked me out. I thanked him for his time ... I asked how long Dr. Salazar had worked there. 'Hombre (man)! Don't you know who that is?'... The warden turned to me on the steps, 'The doctor is a murderer. As a surgeon, he could package his victim in a surprisingly small box. He will never leave this place. He is insane'"
On the afternoon of October 8, 1959, Jesús Castillo Rangel and Alfredo Ballí Treviño got into a fight. Some say that the two men were dating and Castillo Rangel supposedly said he was leaving Ballí Treviño and that sparked the dispute.
Sources close to the family said that Jesús and Alfredo knew each other since high school and the first had worked for the doctor for quite some time. He started causing some trouble, refused to pay back some money that Ballí Treviño had loaned him, and even hurt him with a screw driver.
Others say that the two were in fact an item and Jesús was getting married to a woman, which infuriated Alfredo and that was his motive.
According to the police report filed on the case, after the two got into a fight, Alfredo used the old "cloth over the mouth" trick and put Jesús to sleep. Once the victim was unconscious, he injected another drug to make sure he was completely out and took the passed out body to his consulting room.
Once there, he put Jesús in the bathtub, opened the shower and exsanguinated his victim. Ballí Treviño put the body in a stretcher and sliced it up until he could fit it in a box.
The doctor put the box in his car and drove to Francisco Carrero Villareal, who worked for him from time to time and without allegedly knowing the box's contents, took it and placed it in his car. Soon after, Carrero Villareal and Ballí Treviño went to a ranch where Francisco's uncle, Guadalupe Villareal was waiting for them and provided the tools to bury the box. The relative was told that the box contained unimportant medical waste.
The next morning, Manuel Ovalles, one of Guadalupe's workers who was a shepherd, followed one of his cows that derailed from the group. He found a strange accumulation of stones which he thought was uncommon so he called the authorities.
It didn't take long for police to find the remains and the person responsible. Homicides chief Eusebio Lara and Commander Alfonso González pretended to be patients and arrested Ballí in his office. He tried to bribe them with two cars, his office and a pharmacy that belonged to his father.
They finally took him into custody and interrogated him. He was sentenced to die but was later commuted and released after 20 years in prison.
RELATED: Thomas Harris, 'Silence Of The Lambs' Author, Reveals Hannibal Lecter Was Inspired By Real Life Mexican Doctor
People in Monterrey, where he lived at the time of the murder, started speculating if the doctor had killed anyone else, and police tried unsuccessfully to link other crimes to Ballí Treviño. He was known as the "killer doctor," "the monster of Talleres," and "the vampire Ballí."
He died from cancer in 2009 after spending his days post-prison practicing medicine in the same old office where he killed Jesús Castillo Rangel.
© 2023 Latin Times. All rights reserved. Do not reproduce without permission.