Two UFC fighters reportedly took down an armed man who opened fire at a sushi restaurant in one of Houston's most visited shopping areas at around 11:30 pm on Monday.
The mighty UFC fighters Kevin Holland and his friend, Patrick Robinson, helped bring down the 24-year-old Jesus Samanieg by taking his gun away from him after firing one shot in the air at RA Sushi, located at 3908 Westheimer in Highland Village.
The officers responded to a panic alarm and the authorities also received calls about a shooting in progress. The restaurant was full of 40 to 50 people; the suspect reportedly walked into the restaurant towards the bar and shot at the ceiling. According to the Houston Police Department (HPD), when officers arrived, they already found that the gunman had been caught by customers at the restaurant.
MMA Fighting's Ariel Helwani reported that one of the customers who managed to stop the attacker was Holland, who later shared that report on his Instagram story. A third person was said to grab the suspect.
The friends appeared to bring visitors from Dallas who are trained in MMA. Helwani reported that Holland, 29, declined to be interviewed by local media, but he did give a statement to police. Holland's Instagram story featured him and Robinson outside a building. He showed the police cars and called it a shootout, alongside a text on the video, "I'm drunk and fighting kung fu fighting."
"Me and my buddy, we ran to the shooter, got him down, strangled him, took the gun from him, and then called the police. Police came and got him," Robinson said. "We fight for a living, so it was just quick instincts."
Samaniego is facing a felony deadly conduct charge and a misdemeanor unlawful carrying weapons charge. "We don't know what his intent was. We've located some narcotics, some contraband in his possession when we took him into custody. So, it's possible that he was under the influence as well," said HPD Sgt. Ricardo Salas.
Authorities also confirmed that Samaniego had a warrant for not showing up to court for a criminal mischief charge.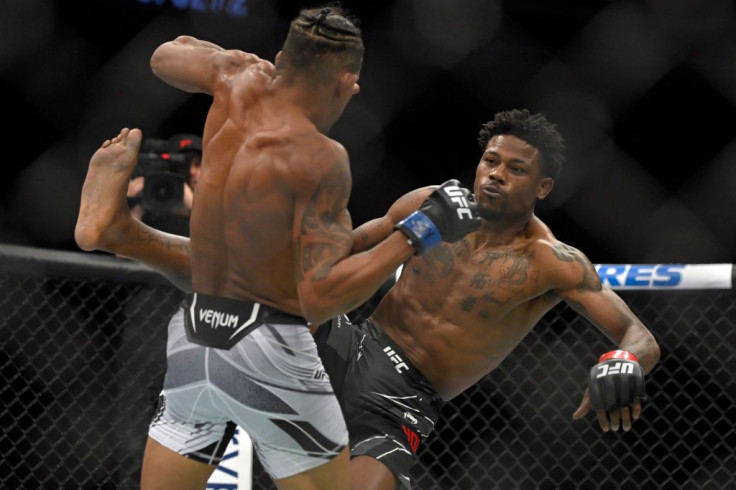 © 2023 Latin Times. All rights reserved. Do not reproduce without permission.