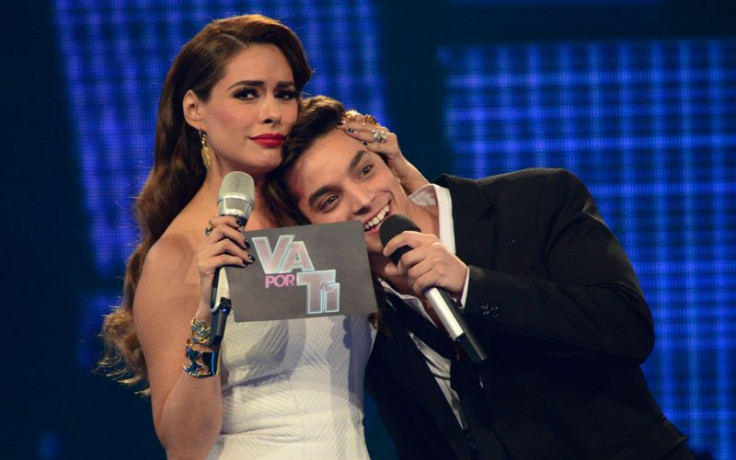 In it's second phase, the stakes on "Va Por Ti" are higher than ever and this week was a game changer. In its final weeks there are two captains, still standing, that will have the winning act. With El Dasa's team already eliminated, Dulce María and Jencarlos Canela are fighting to become the chamption of the first season of the reality show. The moment was tense right from the beginning as host Galilea Montijo announced that there would be three eliminated contestants by the time the show ended Sunday night. Fernando from Jencarlos' team was saved by the public with 48% of the votes with Geissie and Stephanie fighting for their life in a grueling duel. The judges saved Stephanie, leaving Geissie out of the competition.
Now Dulce María and Jencarlos were even again with 6 singers on each team. They were all going to be put against each other in a duel and the judges would save one and send the other one to the "paredón" where they were in danger of being eliminated. Fernando (Team Jen) and Ana Cristina (Team Dulce) faced each other in a Rancheras Duel with the judges saving Ana Cristina. Espiridión (Team Jen) and Danny (Team Dulce) competed in a duel of Mijares songs where Espiridión was saved. A Free Duel followed with Virginia (Team Jen) versus Yazaira (Team Dulce), with the latter being saved. The last duel consisted of songs from J.Balvin with Paloma (Team Jen) and Poyato (Team Dulce) facing each other with Poyato winning.
Then came the moment of tension with the sudden death round. Here the contestants from within the team will face each other and one would be instantly eliminated and force to leave "Va Por Ti." Team Dulce nominated Poyato with their captain Dulce nominating Victor to face him. The judges saved Victor and Poyato had to abandon his dream. Team Jen was next with Espiridión eliminated. Mijares and J.Balvin were the guest judges of the night. The "Bella" singer chosed the "Va Por Ti" moment of the night and gave it to Fernando that sang "Para Amarnos Más." At the end of the night, the following contestants were revealed to be in danger of leaving: Paloma, Fernando and Danny. Who do you want to leave "Va Por Ti" next Sunday night?
© 2023 Latin Times. All rights reserved. Do not reproduce without permission.