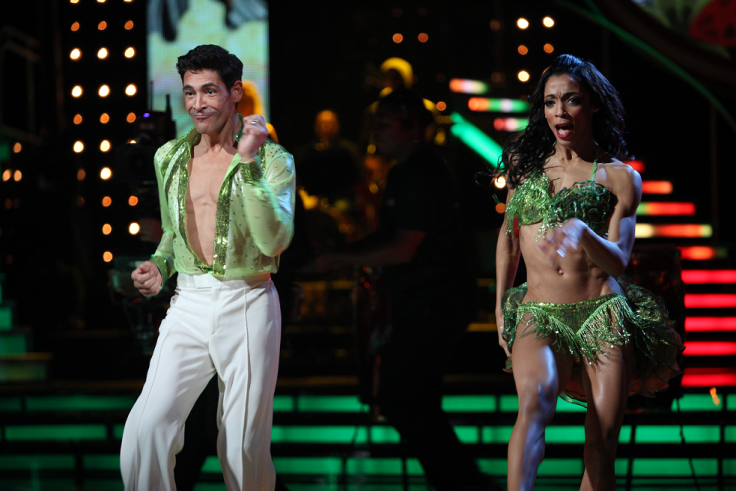 The competition on "Mira Quién Baila" is heating up, and after last night's semi-final only 3 contestants remain, Johnny Lozada, Pedro Moreno, and Marjorie de Sousa. Lozada earned 65% of the public votes last night compared the 35% of votes earned by Mane De La Parra, earning Lozada a spot in the MQB final. Mane had an emotional exit from the stage, thanking his fans for supporting him, and revealing that he was genuinely proud to make it to the 9th week of the dancing competition. "I came to "Mira Quién Baila" in order to leave a message of peace. I truly admire and love Johnny Lozada, who is an example for all Hispanics," said Mane.
And while it was said to see Mane go, the big winner of the night was Lozada, who danced the meringue to a fiery Luan Luis Guerra track. The judges enjoyed his dynamite performance, despite having sustained an injury in his right hand. In addition to earning himself a spot in the final, Lozada was the winner of the State Farm award which earned his designated charity, Habitat for Humanity of Puerto Rico, $7,500. The ¡Despierta América! host was overjoyed and thanked his family for their continued support over the past 2 months.
So what are his chances of winning "Mira Quién Baila?" Well with a little help from Angélica Vale, his chances look pretty good! Lozada and Vale first met on the Mexican telenovela "Amigas y Rivales," in 2001 when the Puerto Rican actor took on the role of Johnny Trinidad. The two stars have stayed close, and Vale is proving her loyalty to Lozada! Vale has called upon her 2 million Twitter followers in order to help Lozada take home the "Mira Quién Baila" title in next week's final! Fans of MQB can vote for their favorites through Twitter and Vale has pushed her followers to action, using the hashtags #MQBJohnny and #MQBJohnnyVota!
So with the help of famous friends and fantastic dance movies, Johnny Lozada seems to have a real shot at winning the popular dancing competition. And if he does win, it will be for a good cause. As mentioned early, Johnny dances on "Mira Quién Baila" for Habitat for Humanity of Puerto Rico, if Lozada wins Univisión will donate $50,000 to the inspiring organization. Amanda Silva, executive director of the nonprofit housing organization expressed her gratitude for Lozada's participation in MQB, "We are grateful to Johnny for all that has been achieved in the program so far and for helping us to present our organization to the audience, which we hope will help to encourage more volunteers to join the cause of decent housing for all in Puerto Rico."
RELATED:
Lindel Toups, Louisiana Official, Push To Defund Library For Having Spanish-Language Section Overruled By Lafourche Parish Voters
Karla Alvarez Death: Ex Husband Alexis Ayala, Father React To Mexican Actress Tragically Taken Too Soon
Miranda Kerr Accused Of Photoshopping Her Instagram Pictures; Former Victoria's Secret Model Makes Waist Smaller In New Picture
© 2023 Latin Times. All rights reserved. Do not reproduce without permission.