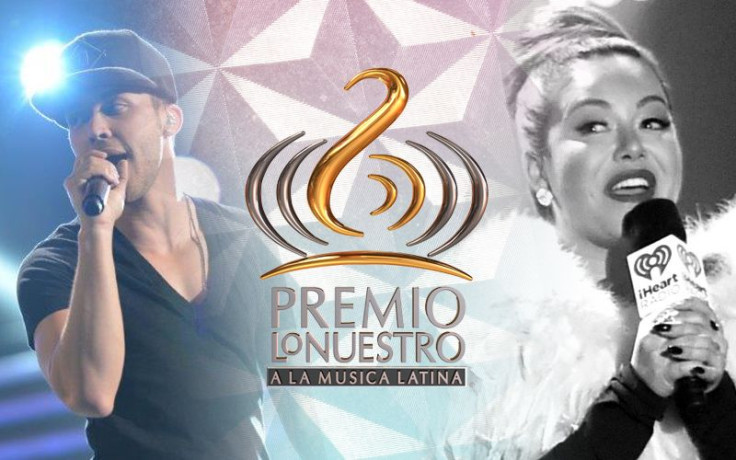 It's all set, the red carpet has been rolled out, the cameras are in position and rehearsals have taken place. All we need now is for the biggest names in Latin music to crowd the American Airlines Arena in Miami for Premio Lo Nuestro 2015 to let the celebration start. The gala honors the best in the biz and it's the longest-running ceremony in the U.S. that celebrates our Spanish-language music. This year's ceremony will be hosted by "Hoy's" Galilea Montijo alongside telenovela heartthrob Cristián De La Fuente. Both are no strangers to hosting duties as they have helmed past award shows for the network. Stars confirmed to present during the main gala are "La Gata's" heartthrob Daniel Arenasand from the "Nuestra Belleza Latina" judging panel Jacky Bracamontes, Jomari Goyso and Osmel Sousa. Other presenters of the night include "Va Por Ti's" judge Alejandra Guzmán, Chino y Nacho, Leslie Grace, Luis Coronel and telenovela star Danna Garcia. Need more reasons to tune in? These are the 10 Reasons To Watch Premio Lo Nuestro Tonight:
1. Chiquis Rivera Vs. Jenni Rivera: The comparisons between the mother and daughter are inevitable and they will always exist, but we are excited to see who wins the award they are both up against. Will it be Chiquis or the late "Diva de la Banda?" Also Chiquis is scheduled to perform, which always makes for riveting television.
2. Thalia & Becky G: The "María La Del Barrio" star was absent for last year's ceremony, but this time she's back and performing alongside "Shower" hitmaker Becky G. Both will take the stage to perform "Que Suenen Los Tambores," which has us dying to see this collab.
3. Chespirito Tribute: The late Roberto Gómez Bolaños will receive a tribute during Premio Lo Nuestro 2015. We have no idea how organizers are going to spin this as Chespirito was known mainly for his television characters, rather than music. Either way, we love a good moment to cry and remember the comic genius.
4. Pitbull Opening: Mr. Worldwide always knows how to jumpstart a party and he will be opening up the music celebration. Pitbull will be joined by Gente de Zona in a musical number that we won't want to miss.
5. Prince Royce: Mr. Royce is such a romantic fellow and we love every time he takes the stage.
6. Laura Pausini: The "Escucha Atento" singer will be taking the stage to receive an accolade honoring her successful career that spans over 20 years in the industry with the "Premio A La Trayectoria Musical."
7. Ricardo Arjona: The "Desnuda" hitmaker will receive the "Premio A La Excelencia" honor for his longevity in the music industry and his contributions to Latin music.
8. Wisin & Sean Paul: This collaboration between both of these acts is also in store and we won't want to miss it. Both will join Farruko to perform "Passion Wine."
9. Maná: Set to make their triumphant return to the scene after nearly four years of absence, singing their song "Mi Verdad" that features Shakira.
10. Camila & Marco Antonio Solís: We already saw them at rehearsals and their collab seems to be one of the best of the night.
Bonus: Simon Cowell will be allegedly taking the stage and speak Spanish to promote the upcoming talent show "La Banda," that Univision will air late this year. This is MUST SEE!
"Premio Lo Nuestro 2015" will air starting at 8pm ET/PT on Univision. Who are you most excited to see tonight?
© 2023 Latin Times. All rights reserved. Do not reproduce without permission.