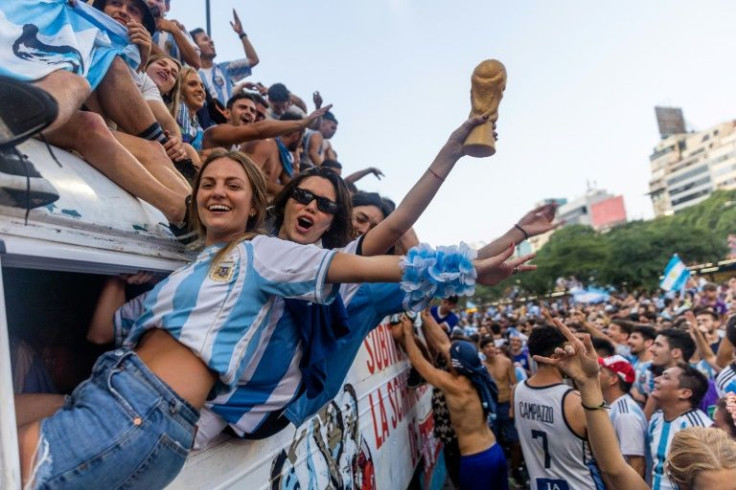 Argentina's World Cup heroes had to be airlifted in helicopters to complete the World Cup celebrations after millions of ecstatic fans flooded onto the streets in Argentina.
After defeating France in the World Cup finals on Sunday, Dec. 18, Argentina won the FIFA World Cup and ended the country's 36-year wait to win the World Cup. After the win, Lionel Messi and the rest of the team arrived back in Argentina in the early hours of Tuesday at Ezeiza airport. When they arrived, thousands were waiting with banners, flags, and flares and howling with joy at the airport, Reuters reported.
Millions had already congregated in downtown Buenos Aires. Major roads were shut down for the Argentina team's open-top bus parade to the central Obelisco monument.
People held up banners of Messi and late icon Diego Maradona, played instruments, and climbed lamp-posts and bus stops to see their favorite players. However, players were unable to reach the central Obelisco monument as planned because the route was completely blocked by the heaving crowd, of over four million people.
Some fans even tried to jump onto the team's bus when it passed under a bridge. The scheduled eight-hour journey was cut short due to security fears and the Argentina team players were transferred from their parade bus and into helicopters.
"The world champions are flying over the entire route in helicopters because it became impossible to continue on land due to the explosion of joy," presidential spokeswoman Gabriela Cerruti wrote on Twitter.
People all over the city, including those waiting around the Obelisco and on surrounding highways were trying to catch a glimpse of their returning champions after the World Cup.
"It's crazy, it's incredible, it's the best thing that can happen to you in life," said 25-year-old metalworker Matias Gomez.
"It is an enormous joy to see all these happy people, all together, one with the other, holding hands, giving each other hugs, and kisses. We are all one today."
However, roads started to clear after the players took to the sky in helicopters. Some people were left disappointed after they were not able to see the players.
© 2023 Latin Times. All rights reserved. Do not reproduce without permission.