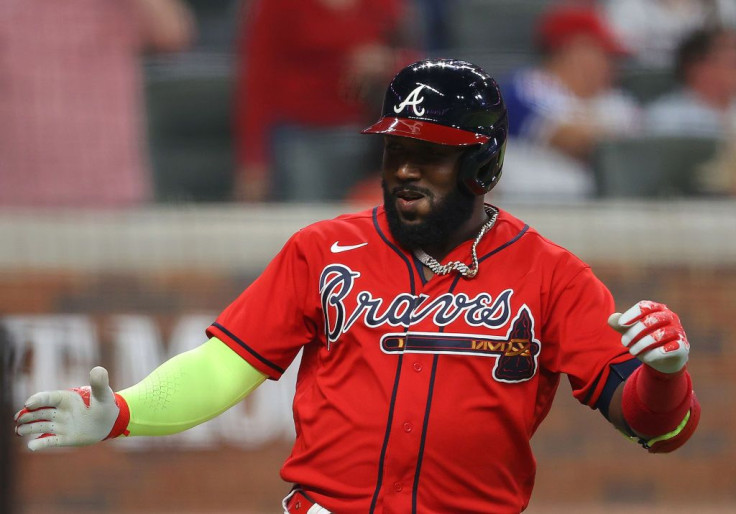 New police footage emerged showing Atlanta Braves star Marcell Ozuna attacking his wife, his hand was seen aggressively wrapped around her neck minutes before his arrest on May 29 in Sandy Springs, Georgia.
The TMZ Sports obtained a video from an officer's bodycam footage. In the video, police were arriving at the scene, after responding to a call of a resident regarding "an assault in progress." The video showed Ozuna grabbing his wife around her throat with his right hand.
Ozuna was arrested on May 29 and was charged with two counts of domestic battery. "Get your hands off her!" the officer can be heard telling Major League Baseball (MLB) player in the footage. "Get on the ground! Get on the ground!"
Ozuna was wearing a cast on his left hand from an injury he had from the previous game, days before the incident. According to the police, aside from choking his wife, Ozuna did hit her with his cast and threatened to kill her as well.
The 31-year-old was initially charged with felony aggravated assault by strangulation. Ozuna ultimately was charged with misdemeanor family violence and entered a pretrial diversion program. He had to finish 200 hours of community service and anger management counseling. He was also placed on six months of supervision.
MLB issued Ozuna a 20-game suspension. It is retroactive to time served, for violating the league's Domestic Violence policy. He is eligible to return to the Braves for the start of the 2022 season. Ozuna missed time on administrative leave last season because MLB investigated the incident.
"Any instance of domestic violence is unacceptable, and we fully support the decision by the commissioner's office regarding Marcell," the Braves stated after the MLB announced the suspension. "We are encouraged to know that Marcell has accepted full responsibility for his actions and is taking the necessary measures to learn and grow from the situation."
Ozuna was in the National League in the shortened 2020 season, due to coronavirus. He led with 18 home runs and 56 RBIs. Ozuna reportedly signed a four-year contract worth $65 million with Atlanta in February.