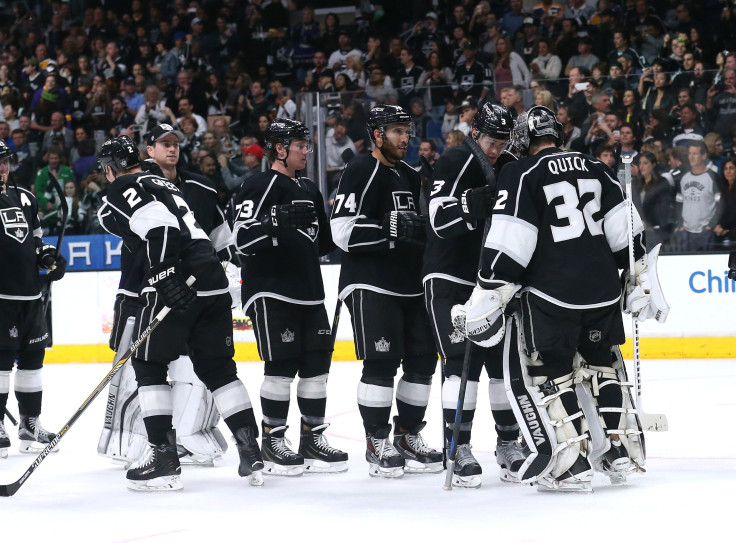 LOS ANGELES – Latino hockey star Alec Martinez sent a Tyler Toffoli rebound into the net, only to see the referee shake his head. So Martinez grabbed his own rebound, darted around the defense and scored again.
It's that kind of determination that the Los Angeles Kings will need to play with during their final four games of the regular season if they want to return to the playoffs.
Martinez got it done on both offense and defense on Saturday night as he scored the go-ahead goal in the second period and the Kings beat the Avalanche 3-1 to remain in the playoff hunt.
"We did a good job of clogging up the neutral zone," said Martinez "We took away some time and space, had a few break downs here and there and Quickie came up huge for us. We definitely can play better hockey, but I'm obviously happy with the outcome."
Dwight King and Marian Gaborik also scored for the reigning Stanley Cup Champions who sweep the season series with Colorado 3-0. LA has won five straight against the Avalanche overall and their last loss was in November of 2013.
Jeff Carter recorded his 31st and 32nd assists, his most since the 2008-2009 season when he was with the Philadelphia Flyers. Jonathan Quick only needed to make nine saves, as the Kings tied a franchise record by only allowing ten total shots in the game.
"Their goalie was phenomenal," said Avalanche head coach Patrick Roy. "They're a team that has a lot of depth, it's a team that knows how to win and obviously they protect the puck very well. They play well against us and you have to give them credit for that."
Ryan O'Reilly scored for the Avalanche who were officially eliminated from the Stanley Cup Playoffs when the Jets beat the Vancouver Canucks earlier in the day.
"Our guys have been working hard all year, we're out of the playoffs, but we're certainly not going to give up," added Roy. "We want to continue to improve as a team and look to preparing ourselves for next year."
King opened the game with a goal off of a Carter rebound, and after O'Reilly tied it in the second period, Martinez swooped in and saved the day. Martinez scored twice in one play when he slammed Toffoli's rebound past Semyon Varlamov so fast that it hit the post and bounced back. Martinez made sure there was no doubt when he shot the puck in again.
"I thought the first one went in but I looked at the ref and he was shaking his head so I just tried to put it in again for good measure I guess," joked Martinez of the play.
Varlamov made 23 saves for the Avalanche but surrendered three goals including a late insurance goal to Gaborik off a wrist shot from the left circle with just under two minutes left in the game.
Game Notes:
UFC champion Ronda Rousey, actress Drew Barrymore and Foo Fighters frontman Dave Grohl were all in attendance.
© 2023 Latin Times. All rights reserved. Do not reproduce without permission.