"The Boys" Season 3 is coming to Amazon Prime Video. The upcoming release promises to be bigger and better than the previous seasons. The next batch of episodes has yet to be released, so we have no idea when the Supes will be back on our televisions. However, because filming is wrapping up soon, Season 3 will premiere next year.
There are teaser trailers so far, both in the form of Vought news reports, that gave fans some hints about what to expect. There have also been some official photographs revealed, and we have the most up-to-date casting news, including who's returning and how many fresh faces may be expected. And that's just the beginning - keep reading to learn all we know about "The Boys" Season 3 thus far.
Producers have yet to reveal the release date for "The Boys" Season 3. But that doesn't mean fans don't know when it'll arrive. That's because the third season of "The Boys" has started filming. Back in February, creator Eric Kripke and star Karl Urban shared images of themselves on their way to filming in Toronto.
What does this signify for the release date of The Boys season 3? We can build out a (hopefully) fairly realistic release window by looking at prior season filming schedules and how they aligned with actual air dates.
"The Boys" Season 1 began filming in May 2018 and ended in October 2018, with an air date of July 2019. That's a nine-month delay. Meanwhile, producers shot "The Boys" Season 2 from July to November 2019 and will premiere on Amazon Prime in September 2020, a ten-month delay.
Tech Radar said that if filming goes according to plan, producers might release "The Boys" Season 3 trailer in late 2021. If prior seasons provide any indication, fans might see it in the first few months of 2022 to give everyone a little more breathing room. That is unless they put the entire cast and crew on Compound V.
With the conclusion of "The Boys" season 2, the cast of "The Boys" season 3 has been reshuffled. There's no official word on who'll be returning yet, but given what's happened, we can make an educated estimate.
Butcher (Karl Urban), Hughie (Jack Quaid), Frenchie (Tomer Capon), Mother's Milk (Laz Alonso), and Kimiko (Karen Fukuhara) are all expected to return and were seen during production.
Homelander (Antony Starr), Maeve (Dominique McElligott), Starlight (Erin Moriarty), A-Train (Jessie Usher), and Black Noir (Nathan Mitchell) make up the Seven on the Supe side. The Deep (Chace Crawford) is also expected to make an appearance. If the actor's schedule allows, expect Vought CEO Stan Edgar (Giancarlo Esposito) to make a few cameos.
Outside of that, Claudia Doumit's Congresswoman Victoria Neuman is the most well-known name. She'll undoubtedly be a key focus of Season 3 after being discovered to be the mastermind behind the head-exploding attacks. She and Colby Minifie (Vought PR Ashley) have been promoted to series regulars, according to Deadline.
Cindy, the escaped patient from Sage Grove, is now on the run and "as deadly as ever." She'll almost certainly appear in season 3 of "The Boys."
Soldier Boy, a Supe who is essentially a twisted spin on Captain America, is one definite new member to the cast. Jensen Ackles, the star of Supernatural, will play the role.
The very first Superhero, according to Eric Kripke, will add so much humour, drama, and danger to the role." Soldier Boy has a surprising relationship to Stormfront, Kripke told TV Guide. Ackles also uploaded a photo of his new hairstyle, presumably while in quarantine for filming on The Boys, Comic Book said. If this is for the show, it's a stylistic change for Soldier Boy, who has shorter hair and is clean-shaven in the comics. The character's first official photographs show him as a little less ragged version of Ackles, with shorter hair and a beard.
Becca (Shantel VanSanten) and Stormfront (Aya Cash), who both died in the season 2 finale, are among those who may not return. Of course, the show hasn't been bashful about using other methods to bring back dead characters, such as Doppelganger's transformation into Elizabeth Shue's Madelyn Stilwell. So don't rule out the possibility of a flashback or cloning ruse just yet. Stormfront isn't dead, according to Kripke, so stay tuned. But Cash has stated that she doesn't know if she'll return, that she isn't currently filming and that her contract was only for a year.
Games Radar said the second season trailer for "The Boys" came unexpectedly early in December 2019, just six weeks after filming wrapped. The Batman proved that producers could put together a substantial trailer even if they haven't shot everything. So there's still hope for a mid-to-late 2021 trailer for The Boys season 3.
Eric Kripke, the show's creator, has released the first behind-the-scenes shot from season 3 of "The Boys."
It has an unfortunate-angled view of the hero's unmentionables, as well as a golden Supe statue (which may be Homelander or newbie Soldier Boy, the jury is still out). As a result, it's "The Boys" all the way.
On Twitter, Kripke also published illustrated posters of Homelander and Queen Maeve, with the wording accompanying both characters being satirical.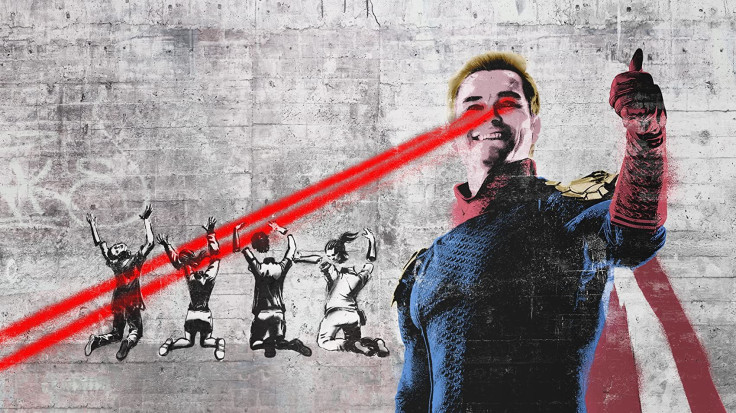 © 2023 Latin Times. All rights reserved. Do not reproduce without permission.