A young woman who recently got married and became the second wife of a man is now dead after she was burned to death by the same man's first wife. She was identified as Fatima Ibrahim of Katsina State. The incident happened last March 23, just seven weeks after she got married to her husband from Minna, Niger State.
According to reports, the first wife who is from Minna, Niger State went and confronted Fatima and beat her up at her house. After that, she locked up the young wife in her home and set the house on fire. She was unable to get out and burned to a crisp.
Additionally, sources told the Katsina Post that the two wives did not live in the same house.
"They were not living in the same house but the first wife went to her house which is not far and beaten her to death before locking her room up and setting her ablaze," the family source said in the report.
The woman was buried on March 24 according to Islamic rites at the Sabuwar Unguwa residential area in the Katsina metropolis.
It was not mentioned in the report if the first wife was apprehended and what cases she will be facing.
This comes not long after a previous report, out of jealousy, bit off husband's penis after finding out he spent the night at his second wife's house in Uganda. Bashir Mukaire was suspected of cheating by his pregnant wife. Both women are pregnant.
Bukaire alleged he spent the night at his second wife's home since she was an expectant mom. He returned to Nakagolo the day after. When his other wife saw him, she went at him and gnawed at his genitals. Bukaire is the father of nine according to an official statement.
Neighbors intervened to help the man who they said would bleed to death if he did not get immediate medical attention. Doctors were unable to re-attach his private part and never have sex ever again. Further, he would have to urinate via a catheter for the rest of his life.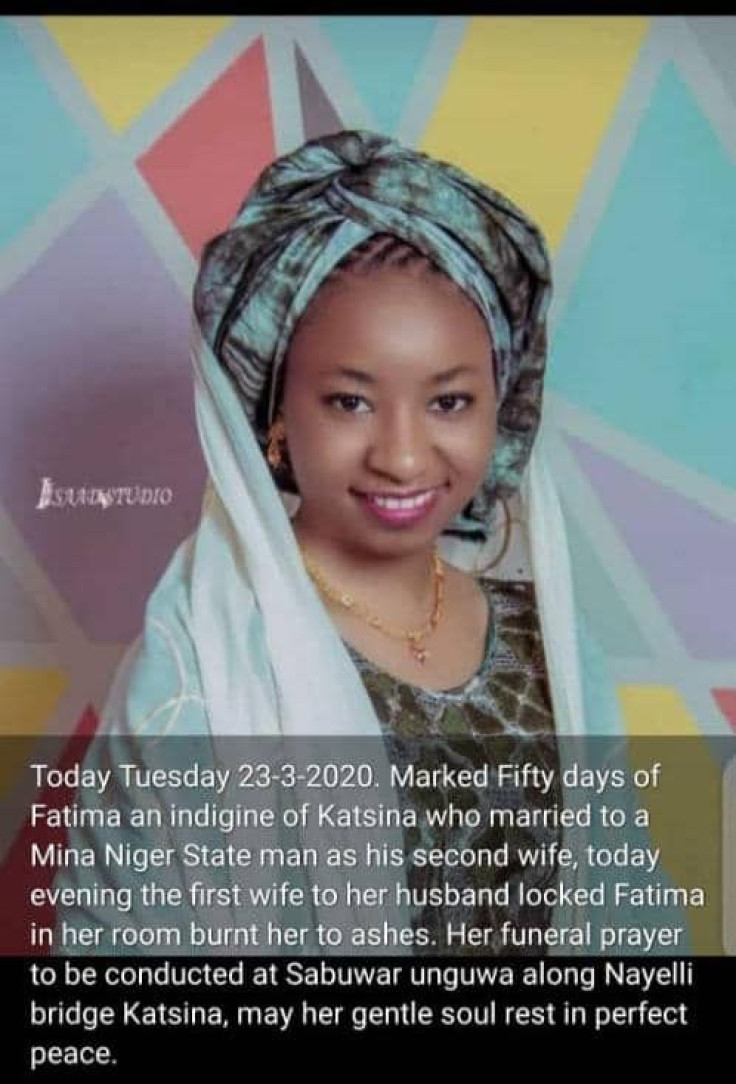 © 2023 Latin Times. All rights reserved. Do not reproduce without permission.