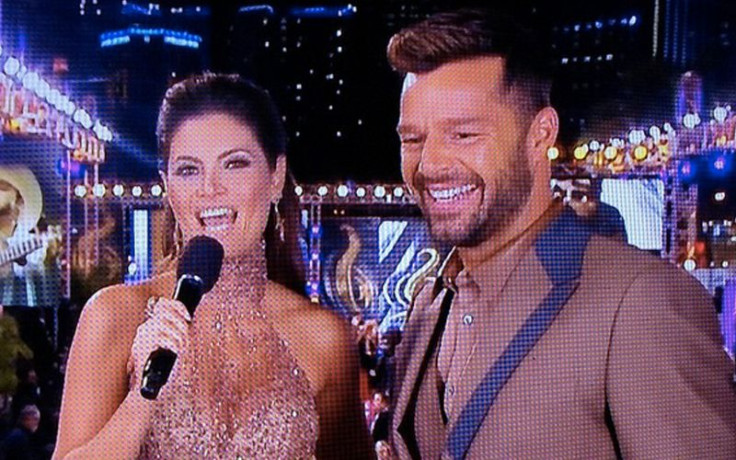 Ricky Martin made the announcement that he will be part of Univision's new reality show, "La Banda." The talent program produced by Simon Cowell aims to find the next Latino boy band. What better judge than Ricky who was part of the Menudo phenomenom and the tv group "Muñecos De Papel" that spanned from "Alcanzar Una Estrella II." Martin made the announced on the "Premio Lo Nuestro 2015" red carpet, where he also said he would be an executive producer on the show and represent the band once they are formed on television. Auditions are set to take place all over the U.S. starting in March. Watch the announcement down below and tell us what you think!
Thalía will be taking the stage with Becky G and performing their brand new single "Como Tú No Hay Dos." Prince Royce is hot with his hit song "Stuck On A Feeling," and will debut a spanglish version during the ceremony. Maná is set to make their triumphant return to the scene after nearly four years of absence, singing their song "Mi Verdad" that features Shakira. Also taking the stage are Marc Anthony with "Flor Pálida" Ricky Martin with the premiere of "Disparo Al Corazón" and Gerardo Ortiz. Also joining the musical lineup is Chiquis Rivera, who will undoubtedly cause a stir. Opening the show will be Mr. Worldwide Pitbull who will be joined by Gente De Zona in what is promised to be a grand opening act. Other scheduled performances include Calibre 50, who sing the theme song of the telenovela "Que Te Perdone Dios," Camila, J Balvin and Sean Paul.
After causing a smash at the Grammy Awards, Juanes will perform his new single "Juntos." During the main gala, scheduled for this evening, there will be three special awards that will celebrate the individuals that have impacted Latinos with their art. Ricardo Arjona will receive the "Premio A La Excelencia" honor for his longevity in the music industry and his contributions to Latin music. Roberto Gómez Bolaños "Chespirito" will be remembered during the ceremony in a tribute to the late comedic genius. Laura Pausini will receive a special award honoring her successful career that spans over 20 years in the industry with the "Premio A La Trayectoria Musical" accolade.
© 2023 Latin Times. All rights reserved. Do not reproduce without permission.