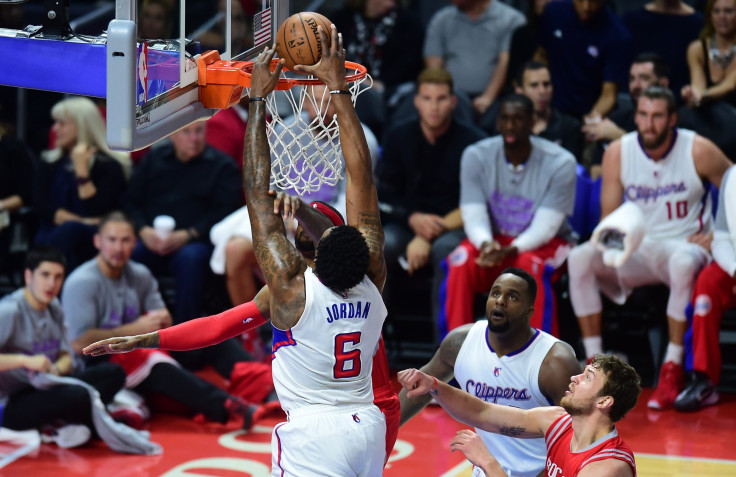 LOS ANGELES – No Blake? No Problem. DeAndre Jordan scored 24 points and had 20 rebounds for the second consecutive game without his frontcourt teammate and the Los Angeles Clippers defeated the Houston Rockets 110-95 on Wednesday night at Staples Center.
The Clippers are now 2-1 without Blake Griffin who underwent surgery on Monday for a staph infection in his right elbow. Griffin, who is expected to be out a minimum of three weeks, sat courtside with his teammates for the first time since the infection was discovered.
His teammates made sure to put on a show for their fallen star as six players scored in double figures to help the Clippers move to within 1 ½ games of the fourth place Rockets in the Western Conference.
Chris Paul had 12 points and 12 assists, Matt Barnes had 10 points and 4 steals, and both J.J. Redick and Jordan Crawford contributed with 20 points apiece.
"I think with the week we had, Blake going down last week, it could have been anybody tonight and we wanted to go in with a win to the All-Star break. Two games counts," said Redick after the game.
Griffin looked on as his team spread the floor and attacked the rim early and often as the Rockets were without their paint protector Dwight Howard. Jordan has had advantageous matchups as of late as he scored 22 points and had a career-high 27 rebounds against the Tyson Chandler-less Dallas Mavericks on Monday.
Rockets guard James Harden has made a case for MVP during the first half of the season as he has excelled in the absence of Howard. Howard is expected to be out another 6-8 weeks, but thanks to Harden, Houston has won 7 of 9 without him. Harden was noticeably quiet on Wednesday night finishing with just 9 points on 3-12 shooting including 0-7 from downtown.
"Tonight's game was a tough one," said Harden. "We had several opportunities to put ourselves in a position to win the game. We didn't knock down shots, we gave up a lot of points defensively, and we couldn't recover from that."
The Rockets initiated "Hack-A-Jordan" down the stretch as they sent the center to the line on eight consecutive trips down the court. The strategy backfired as Jordan finished 7 of 16 from the line and the Rockets were never able to get closer than 10 points during that span. After the 2:00 minute mark when the Rockets could no longer foul Jordan intentionally, the Clippers home crowd rose to their feet and chanted "DJ. DJ. DJ."
"Our fans are great," said Jordan of the ovation. "I thought it was kinda weird they were chanting 'DJ' when Chris was shooting, but we all love it."
Ultimately, the Clippers hot shooting was too much to overcome for the Rockets. Jordan, Redick, Barnes and Hawes shot nearly 60 percent from the field over the duration of the game.
The Clippers will now have over a week off due to All-Star weekend, as they won't take the court again until next Thursday against the San Antonio Spurs.
Game Notes:
Blake Griffin and Chris Paul were presented with their Western Conference NBA All-Star jerseys before the game. Griffin who is recovering from a staph infection, had his elbow in a sling. Jordan is now the all-time Clippers career leader in field goal percentage with 66.2 percent (minimum 2,000 attempts).
© 2023 Latin Times. All rights reserved. Do not reproduce without permission.