After U.S. star and heavy favorite Simone Biles withdrew to focus on her mental health, Sunisa Lee won Olympic gold in the flagship individual competition of women's gymnastics.
Lee's victory marked the United States' fifth consecutive Olympic gold in the individual all-around event beginning with Carly Patterson in 2004, Nastia Liukin in 2008, Gabby Douglas in 2012, and Simone Biles in 2016.
Unfortunately, the Washington Post said Team USA's dominance in the sport was called into question after the Russians won gold in the team event two days earlier.
NPR said Rebeca Andrade of Brazil won silver, earning her country's first-ever medal in women's artistic gymnastics. Angelina Melnikova, a seasoned member of the Russian squad, won bronze.
Lee grinned and hugged her eighth-placed comrade Jade Carey after her victory.
Lee, an 18-year-old from Minnesota, became the highest-qualifying American gymnast for the all-around final after Biles withdrew. A maximum of two gymnasts from each country is allowed to compete.
Carey, who earned the second-highest score in the qualifying, was called upon by Team USA to fill in as the second American gymnast. Carey, a 21-year-old from Arizona, took an unorthodox route to the Olympics, qualifying in individual international contests rather than competing in a four-person team event.
Carey arrived in Tokyo as a vault and floor exercise specialist.
The all-around final featured twenty-four gymnasts who will participate in four events: uneven bars, balance beam, floor exercise, and vault.
Carey finished a tenth of a point behind Andrade with a 15.200 in a vault of extreme difficulty.
Lee grinned as she landed her vault and received a 14.600. Melnikova received a 14.633 score, which was slightly higher than Lee's. Their vaults were equally tough, but Melnikova's execution was superior.
Lee is well-known for her incredible uneven bars routines. She demonstrated her abilities in the event once more on Thursday, outperforming all other medal contenders with a performance of the highest difficulty level. She received a 15.300 on the exam.
Lee's main challenger on the uneven bars, Derwael, came in second with a 15.266.
Carey fell during the uneven bars warmups, and her competition score of 13.500 was the lowest among the top competitors.
Lee's floor routine of 13.700 points was enough to secure her place in history. It wasn't the highest-scoring of the night — that honor went to Mai Murakami of Japan — but it was enough for Lee to earn gold.
Lee isn't known for his strength on the floor. She wasn't supposed to perform it at the team final two nights ago, but she stepped in when Biles had to withdraw.
"We do not owe anyone a gold medal, we are WINNERS in our hearts," Lee tweeted after the U.S. gymnasts won silver in the team event.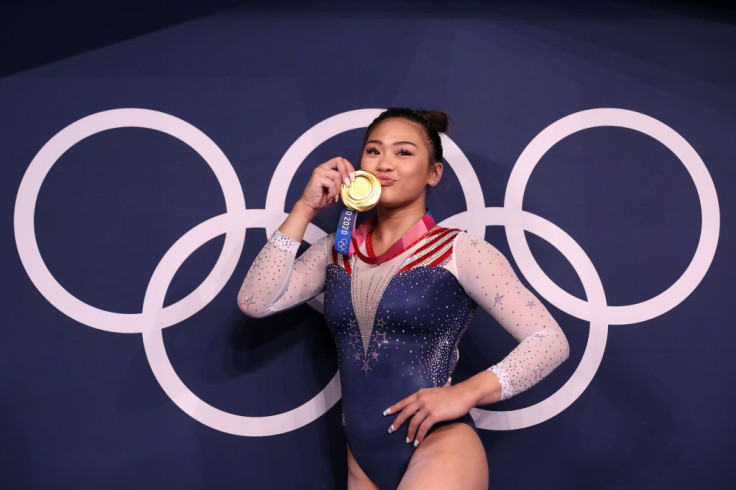 © 2023 Latin Times. All rights reserved. Do not reproduce without permission.