A former detective has been indicted, along with four other men part of Tekashi 6ix9ine's entourage, following a wild chase of a motorist who shot a video of the troubled artist in Harlem, Manhattan, in August just months following his prison release, Manhattan prosecutors said on Monday.
Retired New York City Police Department (NYPD) cop Daniel Laperuta, 44, has been charged with robbery, criminal impersonation, and falsely reporting an incident in the August road rage involving Sammy Sprouse, brothers Christian and Edgardo Cortez, and Kristian Fuhse.
It comes after Laperuta and the men caravanned through the streets of Harlem chasing a 34-year-old motorist with their three SUVs because the man and his girlfriend allegedly took a photo of Tekashi 6ix9ine, whose given name is Daniel Hernandez, Vulture reported.
The suspects reportedly flashed their emergency lights and left the sirens blaring so cars would let them pass the roads smoothly. The wild goose chase would go on for about 20 blocks.
At one point during the pursuit, Laperuta allegedly flagged down a marked NYPD car along the street and flashed his retired NYPD Member of Service card before falsely reporting that they were chasing the man after he brandished his gun at his group. He would maintain his claims at the 28th Precinct station house following his 911 call as he tried to conceal their conduct.
When the group cornered the victim, prosecutors said that Sprouse violently pulled the 34-year-old driver out of the car as Fuhse stomped on his phone. Laperuta reportedly had his hand on his holstered gun and Cortez was pointing a taser at him. The men fled the scene when cops arrived.
Laperuta was the first of the crew to be arraigned Monday in Manhattan Supreme Court, where he pleaded not guilty, according to the New York Post. Bail was set at $25,000 cash or a $75,000 bond.
"Well, I think there may have been an assault as part of what that individual did, which is what aggravated the response," Laperuta's legal representative, Todd Cushner, said Monday. "He was going to assault Tekashi, or he was in the process of assaulting Tekashi."
The other members of the entourage have been charged with first-degree and second-degree robbery as well as criminal impersonation.
The Cortez brothers were arraigned next and pleaded not guilty to the charges with a bail set at $10,000 cash or $50,000 bond. Meanwhile, Sprouse and Fuhse will be arraigned at a later date.
Hernandez had been away from the spotlight since his release from prison in April last year after he pleaded guilty to racketeering and other charges and testified against the Nine Trey Gangsta Bloods, which he had been affiliated with.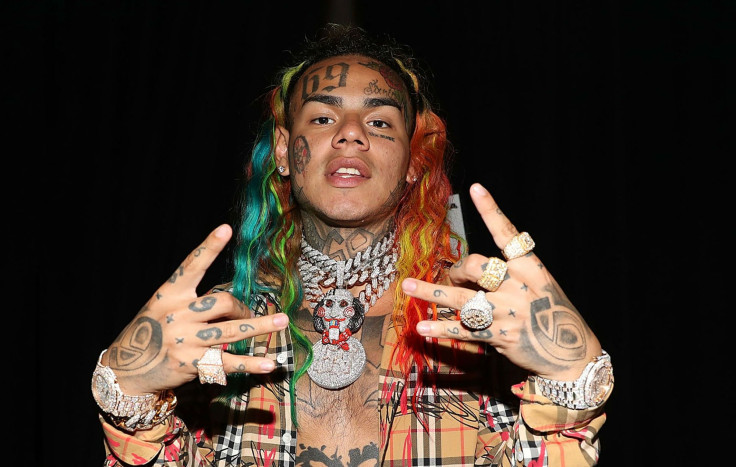 © 2023 Latin Times. All rights reserved. Do not reproduce without permission.