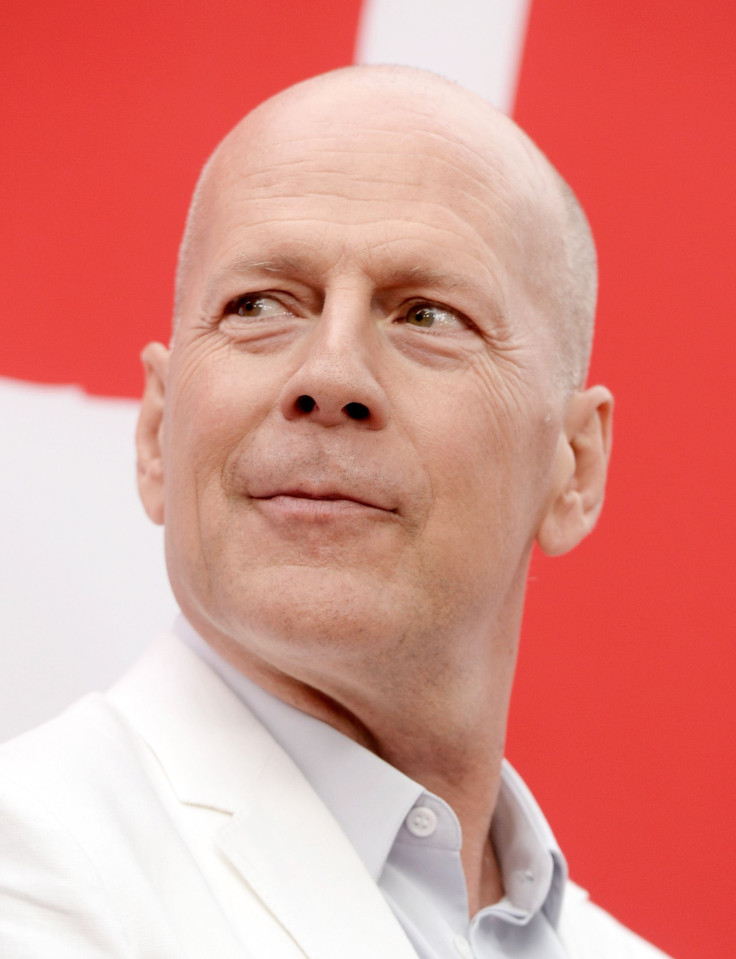 Bruce Willis is one of the few celebrities that has aged pretty well. At 58 he looks fit, practically wrinkle-free, and exudes youth. His good sense of humor and peculiar views on life -- hint: he wants you to make-out with everyone you can ... more on that later, are part of why he continues to look like a forty-something action hero.
In "Red 2," Willis is back on top form reprising his role as Frank, who this time around is retired with wife Sarah (Mary-Louise Parker) and thinks his best friend Marvin (John Malkovich) is dead and he will now live suburban life, shopping at Costco and holding hands with the wife. So not true. In one of the scenes, Parker's character slaps him around after she thinks he's sleeping around with another agent, played by Catherine-Zeta Jones.
"I was slapped in this film? I was? I haven't seen the final cut. Who slaps me? Mary-Louise? Ohhhh, yes, my goodness. I like that scene," recalls Willis, "It's something I seldom get to do in films, and that's get that daffy look on my face where I'm just coming out of unconsciousness. Always a fun thing to do. Sometimes directors are so strict about saying the words just right, like saying 'the' instead of 'that,' but this film was not like that. We got to wing some of the things, and that scene was particularly - what's the past tense of 'winged?' Is it 'winged?' I don't know, well, we 'wong' it. Sorry, not an English major."
Reprising a role is not a novelty for Willis. He has played John McClane five times in the "Die Hard" franchise, Church in the two "Expendables," and Jimmy "The Tulip" Tudeski in "The Whole Nine Yards" and its sequel, but his motivation to reprise Frank in "Red 2" doesn't rely in the acting, but more in the fun and thrill of working with other actors and having fun on the set.
"I had fun on these films. I actually rushed into work. There was no lollygagging, no coming in late because I didn't want to do it -- we were all happy to show up and try to make each other laugh. As for John [Malkovich], well, you never know what's going to happen when you're around [him]. He makes me laugh all the time, which is a very good thing, but sometimes we'd have to go again because we were laughing so hard. But you can kind of get away with laughing on camera. [In the film] he was giving me romantic advice, and I liked that advice."
"I'm always excited to see who comes to work on films. I was very, very excited Anthony [Hopkins] said yes, so it's nice that you get to work with people you're a fan of. You get to have fun. I don't really think we took it that seriously though. I mean, you take work seriously, but we had a ball. We were all just laughing, watching one another do what we do. I wasn't that concerned. I was a little more confused on the first one because it felt like we were trying to do so many things at the same time. Comedy, action, and romance were all in the same film, but somehow it seemed to work out. There's more romance in this one, I think, than the first one. I haven't seen the final cut and how it ends though, so don't tell me!"
The conversation at the Mandarin Hotel in New York gets a bit serious when Willis is asked about the death of James Gandolfini, with whom he work together in the film "The Last Boy Scout" and who had a part in then wife Demi Moore's movie "The Juror." They also both come from New Jersey.
"l certainly miss James Gandolfini, what a great guy. Life is short, isn't it? Seems short. You've got to live it up, have fun, laugh, eat good food, do whatever you want, don't hurt people, and try to have as much fun as you can. Don't you think? Start making out with everyone right now! Don't you worry, just tell whoever you try to kiss at a restaurant or wherever that Mr. Willis told you to."
© 2023 Latin Times. All rights reserved. Do not reproduce without permission.