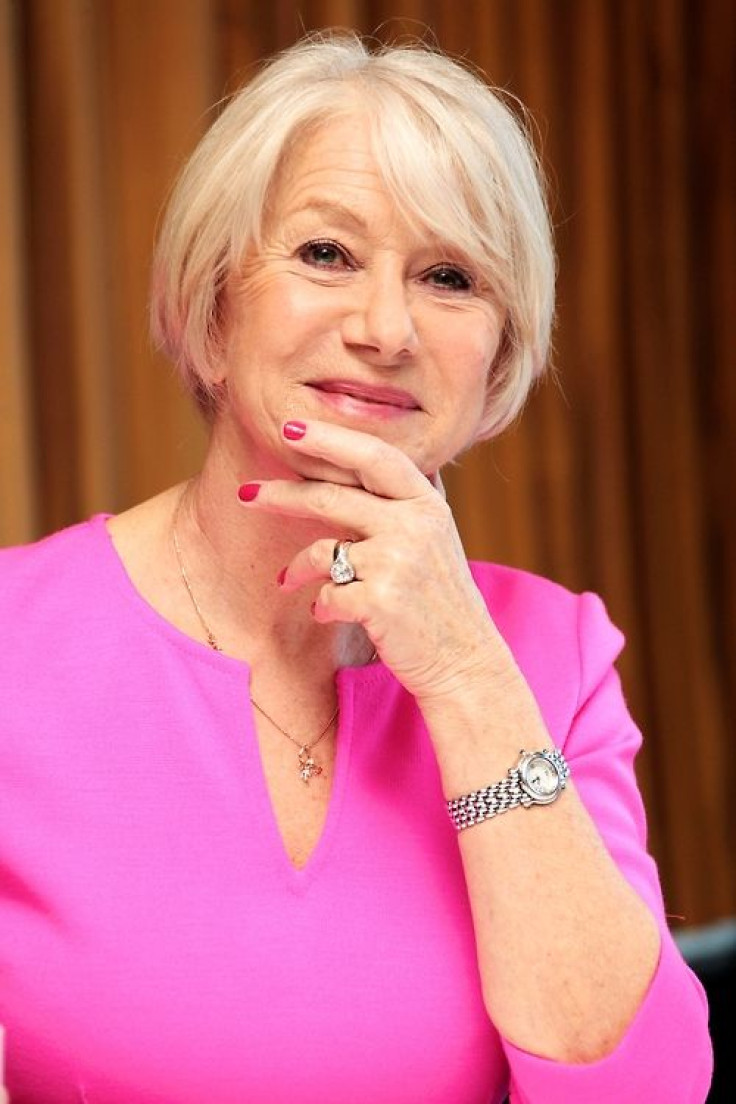 I confess I am a big admirer of Helen Mirren. From her work in Peter Greenaway's "The Cook, The Thief, His Wife And Her Lover" to her uncanny channeling of Queen Elizabeth II in "The Queen", the actress has shown an array of impressive acting skills. Even her "worst movies" like "Caligula" and "Teaching Mrs. Tingle" benefit from her stunning pressence. Seeing her play a comedy part in "Red" some years ago was a thrill. And luckily she's even funnier in the long-awaited sequel, "Red 2" which opens Friday July 19th on cinemas nationwide.
In person, the actress couldn't be cooler and more down to earth. It's obvious her personality is larger than life and she exudes class, good manners and that fabulous british sense of humor you would expect even without having meeting her before. That such a dame --no pun intended-- can be such a badass action heroine is just priceless.
"I love being a badass, it's just the best. To lurch from being 'The Queen' to a badass is very cool. People really enjoyed the first one and I'm thrilled we got to do a second one", says Mirren in the Mandarin Hotel in New York. " t's lovely to reprise a character in action as well because the character takes on a different kind of life when you come back to it. It's like when I did 'Prime Suspect', coming back to Jane Tennison. It's funny because the characters become a part of your personal life. I feel that about Victoria. She's just a great, funny, surprising sort of character to see on screen, and actually, one someone hasn't seen on the screen before. It's always a bit of a miracle when you can do something that hasn't been seen before ... that sort of very refined character who has this other life".
Mirren plays her character Victoria in uber-cool fashion. She's the most glamorous, cold and manipulative agent that can kill someone in high heels, luxurious outfits and never losing her temper. There's a scene in which, to distract an enemy, she acts like a lunatic that truly believes is a reincarnation of Queen Elizabeth I, a role she played to rave reviews for an HBO Movie Special back in 2005.
"Oh yes, that was my idea! The Queen Elizabeth part was my idea because I'd played her. I can't remember what it was originally in the script .. it was Shakespeare or something. I can't remember. But certainly, to play Queen Elizabeth was my idea, to get a really bad wig and an awful costume. That was fun. It's always nice to bring other roles into a piece of work in a tongue-in-cheek way. You're slightly crossing the fourth wall a little bit. But it's kind of a nice way to do it. Especially in a movie like Red, you can play around with those sorts of things."
The conversation takes a turn for the deep when Mirren explains if she would like to live a "normal" life as Bruce Willis' character is striving to at the beginning of 'Red 2', shopping at Costco and holding hands with his wife.
"Oh I love Costco! Well, I love Home Depot ... that's my place. They know me by name at Home Depot. I do love homely, house-y stuff, however, I've never really been challenged. You have your dream of what it's going to be like being retired. My husband [director Taylor Hackford] and I have been building this house in Italy that's sort of our retirement dream, but actually, in reality, whether we ever actually do that, I don't know. It's hard to let go of our business. It's hard to let go of the creativity involved. It's also hard to let go of the attention that you get. You don't think that you're addicted or in love with that attention, you think it doesn't mean anything to you, until suddenly you don't get it. "Why isn't everyone asking me questions! Why doesn't everyone love me! What's going on!" But maybe in the end it'll be lovely to do that".
"It's funny how people in your business in particular think that if people aren't in the public eye, they must be somehow dead", Mirren elaborates on the meaning of being a celebrity. "Not physically dead, but it's like whatever happened to them? Well, actually, they're really living in a house in the country with their family, and they couldn't be happier. They're living life. But there is a slight feeling around the media that if someone isn't actually in the media, that somehow you don't exist. It's no wonder that people are so obsessed with putting themselves up on Facebook and stuff like that. It's to sort of say 'I exist because I'm in some kind of media.' I don't particularly agree with that. I think existing as a human being outside of the attention of other people is probably the greatest kind of human existence you can actually have".
With such challenging roles as the two Queen Elizabeths, and having worked under the helm of Peter Greenaway, Robert Altman, Sean Penn and David Mamet --to name a few-- Mirren says the amount of preparation and discipline for a film like "Red 2" is actually as intense as the roles we are using to see her into.
"Most of the "prep" is learning how to use the equipment, the guns and such, because you couldn't look like you didn't know what you were doing there. Certainly I've never handled guns, so I did have to learn that", she explains, "Every role brings different challenges, actually, and the challenge in doing something like 'Red' --and it's why someone like Bruce [Willis] is so brilliant in these movies-- is that there's a great self discipline, and Mary-Louise Parker is great at this too, but at the same time there's also an ease. There's a relaxation. There's an ability to think on the move and improvise. That's where the real work on a movie like this is. It's not actually in the preparation, or if it is it's in prepping yourself to realize that you've got to be free. That's actually very difficult on the film set. It's the hardest thing because the whole set-up is not free. It's so technical; it's so controlled. To get on that set and be free is really a great skill, and Bruce has it to the max. I would always watch Bruce and take my lead from him."
© 2023 Latin Times. All rights reserved. Do not reproduce without permission.